Luxury liners put the UAE on the cruise map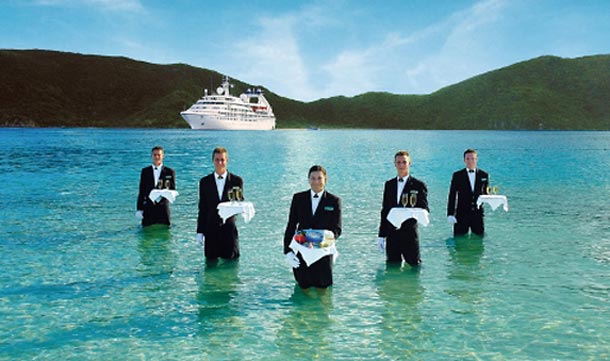 The Gulf is fast becoming a hotbed for the region's growing cruise industry, as Italy's MSC Cruises becomes the latest luxury liner to set sail for our sunny shores.
The UAE will feature as a new destination for its 2011-12 winter collection, with the MSC Lirica dropping anchor in Abu Dhabi and Dubai for her busy season. The itinerary will include a full schedule of 19 eight-day cruises from the capital, with departures every Sunday from October 30 2011 through to March 4 2012.
Those travelling from Dubai will be able to hop on every Friday, from October 28 2011 until March 9 2012.
MSC Lirica will also call at the port of Muscat in Oman, along with Fujairah and Bahrain.
Those of you interested in her maiden voyage can jet off to Genoa Italy next week, as she departs on October 14 from the port city for a 17-day cruise to Abu Dhabi, to start her first ever cruise season here.
Her southbound course will take her from the Mediterranean Sea with calls in Naples, Italy, and Port Saeed, Egypt, through the Suez Canal to Aqaba in Jordan, Salalah and Muscat in Oman and finally to Dubai and Abu Dhabi.
If this serves as too short a notice, her northbound voyage on March 9 from Dubai will follow the same route back to Genoa.
The 59,000-ton MSC Lirica has capacity for a total of 2069 guests in 780 cabins, featuring shops, a casino, a card room and a 713-seat Broadway theatre.
The lure of the Gulf
MSC Cruises is not the only Italian cruise liner to set sail from Dubai, as in 2007, Costa Cruises set up a regional office in the emirate to target the growing cruise tourism market, which is estimated to grow 77 per cent by 2015.
In an earlier interview with Emirates 24|7, Hamad Mohamed bin Mejren, Executive Director, Business Tourism at the Department of Tourism and Commerce Marketing (DTCM) confirmed the government body was in talks with Hamburg-based company, Sea Cloud, to launch its services here.
"We have been approached by a number of cruise companies that are interested in extending their services to Dubai, of which Sea Cloud is simply one of many," he said. "Since the launch of the new Dubai Cruise Terminal earlier this year, we are expecting a 30 per cent growth in business compared to 2009."
Last year saw 87 ships or 261,000 passengers pass through Dubai's Port Rashid Terminal; according to bin Mejren, those numbers are expected to reach 120 ships, or 325,000 passengers in 2010.
"By 2015, we are estimating 195 cruise calls or 575,000 passengers to head to our shores," he said. "To achieve this growth, we have invested in our infrastructure by building a state-of-the-art cruise terminal. Alongside, we are also working closely with Abu Dhabi, Fujairah, Muscat and Bahrain to offer better port facilities, which will ultimately draw more ships and more tourists to this region."
For the 2009-10 winter season, Abu Dhabi Tourism Authority announced traffic of nearly 200,000 passengers, a figure it expects to triple by 2030. However, in comparison, Dubai has already forged ahead in its cruise tourism efforts by becoming a regional hub for Costa Cruises since 2007, along with Germany's Aida Cruises.
Meanwhile, Royal Caribbean International's Senior Vice-President International, Michael Bayley, also announced the possibility of setting up a hub for the Florida-based company in the emirate.
RCI also revealed plans to set up a Dubai-Mumbai cruise route in 2011, during the cruise line's maiden docking of the ship, Brilliance of the Seas, in Dubai in January.
Bin Mejren stated that RCI's Brilliance of the Seas' seven-night roundtrip sailings from Dubai to Muscat, Fujairah, Abu Dhabi and Bahrain is one of the most popular routes with tourists.
Follow Emirates 24|7 on Google News.