Plane secrets: Why do airlines dim light during take-off, landing?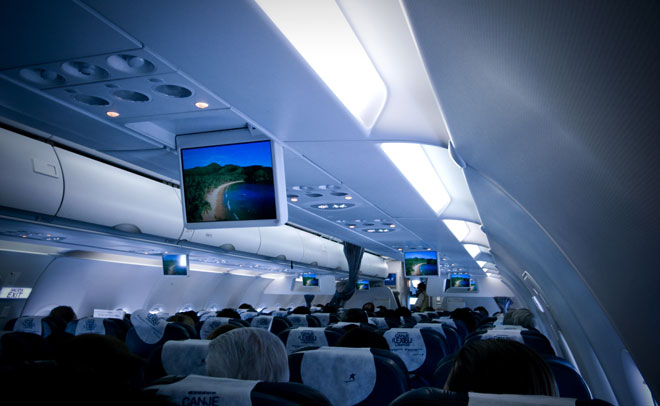 Just when you are about to wrap-up that interesting novel you have picked up from the airport, the lights in the cabin are dimmed. An announcement is made that the flight is preparing to land. This might leave you exasperated - but relax it is for your safety.
This simple act of dimming the cabin light could be the difference between life and death.
Lowering cabin lights and raising window shades are standard safety measures during takeoff and landing, which are the most critical moments of every flight.
But what purpose do they serve? As it turns out, the dim lighting is a precautionary measure that allows passengers' eyes to adjust more quickly during an emergency evacuation.
As Chris Cooke, a pilot with a major domestic carrier, tells Travel + Leisure magazine, "Imagine being in an unfamiliar bright room filled with obstacles when someone turns off the lights and asks you to exit quickly."
So dimming light allows passengers to adjust their eyes to the natural light outside the aircraft.
This is especially important during emergency situation, for passengers to maintain situational awareness to expedite escape. If the lights were to suddenly go dark, there is a period of visual adjustment that would cost precious seconds.
This is also why cabin windows are raised. A former cabin crew, who worked in a UAE-based airline, informs Emirates 24|7, "Raising window shades and adjusting cabin lights ensures that passengers' eyes are well-adjusted to the light outside."
The raised window shades bring natural light into the cabin, just in case it's needed.
Although reading light is allowed to be on, it illuminates a small area and does not have a large effect, but it would be wise to keep that one off too.
Takeoff and landing are considered to be critical times in aviation when most accidents happen.
Flight attendants are required to prepare the aircraft for any contingencies.
The cabin crew have only 90 seconds to evacuate all passengers in case of emergencies.
In case of sudden emergencies, every second counts when it comes to being organised. If shades are open and lights dim the crew can see the outside conditions, and this will help them in planning an evacuation, such as determining which doors to use (as, for example, one side may be on fire).
Follow Emirates 24|7 on Google News.