Review: Go for Gold at the Fairmont Abu Dhabi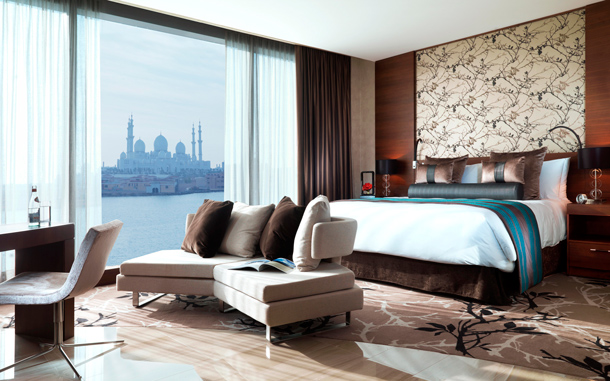 Now that the Abu Dhabi is such a regular part of any Dubai resident's lifestyle, what with the capital having become the place for both business and evenings out, we felt it vital to settle on one place that could be a home away from home.
And we could have found it with the Fairmont Bab Al Bahr, a modern number at the top end of the spectrum that is thankfully just outside the city proper, so you don't actually get lost between Zayed the First and Zayed the Third streets.
Described as being "between the bridges", the property has been open over a year – enough time to get any kinks ironed out, but the opening of a much-awaited spa has been put back yet again.
The experience begins at the door. Or rather, as you take the road off Maqta Bridge to the hotel – thankfully we knew where we going, because we missed any signs there might have been on the road from Dubai. But take the exit after the macaroon-shaped building that functions as the headquarters for real estate developer Al Dar in the direction of the new Sheikh Zayed mosque and you'll be bang on course for a rather large building in the shape of an iPod docking station. That's the hotel.
Once we drove up to the door, though, with the car valeted and instructions to take our bags to the seventh floor, it was fun to take the elevator straight to the club level, home of Fairmont's Gold product. No messing about in the lobby (even if it the rather flamboyant design makes the waiting pleasant), waiting on some harassed check-in check to photocopy your passport (a driving licence or the Emirates ID card are the only other documents accepted according to Abu Dhabi rules, so don't expect to get a room on the basis on your labour card).
As it happens, Fairmont Gold manager Arnold recognises us right away from endless visits to the Fairmont Dubai and we're led straight to a lounge for drinks while he handles the paperwork for us. Quick, seamless and no hassle at all, probably the smoothest check-in procedure I've ever experienced.
Our room (smoking pleasethankyouverymuch) is down a long corridor and is done up in pale, neutral tones and dark wood finishes and has clean, organic lines that make for a nice contemporary feel. The only hitch, as I tried to get to the desk to plug in my computer, was an inconveniently placed magazine rack that I kept falling over during the course of our stay.
Unfortunately, because we visited in January, a perfect desert storm had dusted down the outdoor pools – and although a couple of brave tourists were attempting to get some sun, we hardened residents of the Emirates knew better.
Instead, I hit the shower, which thankfully because this is a new hotel, is a wide rain shower that pulsed down onto my shoulders magnificently, with a pressure strong enough to loosen any tensions. You can unwind in the freestanding bath, too, but having read up on the UAE's ginormous carbon footprint the day before, I chose to admire its clean lines from the outside instead.
The partially frosted glass doors to the room's wet areas mean you and your partner can have quite a bit of fun, although I'd imagine this would get rather difficult with children. Stepping out, a frantic hunt for the hair dryer ensued, before it was discovered in a tiny drawstring bag on a little shelf outside the toilet.
With the unrest in Egypt on the telly, it was time for coffee. This bit was particularly delightful – with a Nespresso machine in the room, us coffee addicts didn't really want to tear ourselves away to get to our meetings.
But manage we did, ending up back in the hotel at Frankie's Italian for dinner. Owned by jockey Frankie Dettori, it is one of two signature restaurants run by culinary deity Marco Pierre White. It's an informal, clubby sort of place that can get quite wonderfully raucous. If you're in on a Saturday, Sunday or Monday, try their Dh85++ deal or pizza and two drinks – and if there's a live game on, you get another drink free. The pizza diavola, with spicy beef chorizo and peppers, is particularly memorable.
And if you're there on a Friday, try their Merenda – it's a huge Genovese-style spread of antipasti, pasta and indulgent desserts, that at Dh295++ inclusive of house beverages, is an excellent value weekend brunch.
We stumbled into bed hours later (falling over the magazine rack again!), by way of the chi-chi bar Chameleon, which we're told is among the top places to be seen in Abu Dhabi, and we were so late, we forgot to fill out the breakfast order.
Thankfully, the next morning, we didn't need to go very far. Club or Gold rooms have their own small but extensive buffet on the seventh floor, so we were far removed from the rest of the hoi polloi and were able to tuck into freshly cooked eggs, pancakes and all manner of cold cuts as we drunk in the magnificent architecture of the Sheikh Zayed Mosque. Staff were friendly and attentive, stopping to chat at occasional moments but taking care not to be intrusive and nothing ever seemed like it was too much of a hassle. Which, given the room rates at the moment, offered tremendous value for money.
The Gold Package at the Fairmont Bab Al Bahr, Between the Bridges, costs Dh 1,799 and includes brunch, dinner, accommodation for one night and breakfast. Book at www.fairmont.com/abu-dhabi/and
Follow Emirates 24|7 on Google News.