Top 10 quirkiest homes to rent while travelling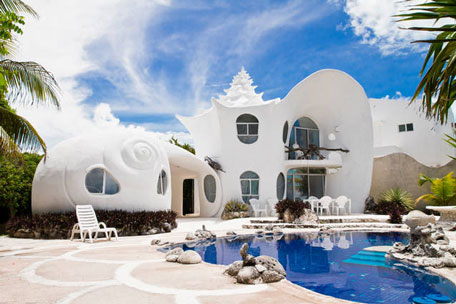 Holidays are all about getting away from the mundane, set and organised life and step into a world that's totally different. Many of us will vouch for a five star living but the die-hard traveller will ask for more than the spa and private butler services.
Airbnb, a community-driven hospitality company, has revealed its top-wish listed properties around the world that are a traveller's dream.
The website analysed the wish lists that have been saved by millions of guests since the feature was launched in 2012 and has revealed the 10 most wish-listed properties in the world.
Wish lists are aspirational and indicate where a traveller would go if they had all the time and money they could want.
Here are the top 10 most-wishlisted properties on the site.
1. Secluded Intown Treehouse in Atlanta, Georgia
This is a suite of 3 connected treehouse rooms within the secluded intown neighborhood of Buckhead. Set amongst lush greenery, each structure is furnished with antiques, natural artifacts with the sounds of nature around you and is within minutes from downtown Atlanta.
2. The Seashell House Casa Caracol in Mexico
This seashell shaped house in Isla Mujeres has all the comforts but is quirky enough to tickle the interest of a traveller
3. Casa Barthel in Tuscany, Italy
This one is tagged as an artist residency, amidst olive trees and a kitchen garden. It's only 20 minutes' from the Duomo and one hour from Siena.
4. Unique Cob Cottage in Mayne Island, BC, Canada
Featured in numerous books on natural building, this cottage is a retreat hand sculpted of local, sustainable natural materials located on an acreage with sheep, gardens and orchards.
5. Aroma(n)tica Treehouse in Monferrato in San Salvatore Monferrato,
Alessandria, Italy
This is a quaint treehouse in San Salvatore Monferrato, Alessandria, Italy, but can remind of the good old days when you were a child and may have used a similar space as your hiding spot.
6. Mushroom Dome Cabin in Aptos, CA
This place features a geodesic dome and a large deck in the trees. It's shaded by Oak and Madrone trees and next to a Redwood grove.
7. Pirates of the Caribbean Getaway in Topanga Canyon, CA
This one seems to have been taken out from the Jungle Book. The property features Pirates of the Caribbean movie-themed guest house and has waterfalls and ponds…to add a wild life feel.
8. Balian Treehouse with private pool in Bali
The mushroom villa, as the local people named the house, is only 3 minute walk away from the village/beach. The place boasts of ocean view and has a garden where you can pick your own fruits.
9. Brand New Mini Loft in Rome, Italy
Located in the historic area of San John, this mini loft is equipped with all modern comforts but is only a 15 minute walk to the Coliseum.
10. Off the Gridit House, in Pioneertown, CA
The Off-gridit House brings together raw industrial aesthetics with the tactics of green design to forge a new home in the sunbaked wilds of the California high desert.
The top 10 wish listed property types on the website include a treehouse, igloo, van, lighthouse, cave, island, yurt, train, loft and a cabin.
"Treehouses also represent the majority among the top 10 individual properties that have been most wish listed throughout all time.

"When people want to get away from it all, they want to live more simply, as most of the top properties are not expansive villas, but compact places with unique design, such as the cob cottage in Canada or the mini loft in Rome.

"Unique properties also reign supreme in the top 10 listings, with the gorgeous Casa Caracol (Seashell house) in Mexico and a pirate-themed tent in California," reads the website.
(All images courtesy Airbnb.com)
Follow Emirates 24|7 on Google News.