Travel tricks: 10 ways you can survive long-haul flight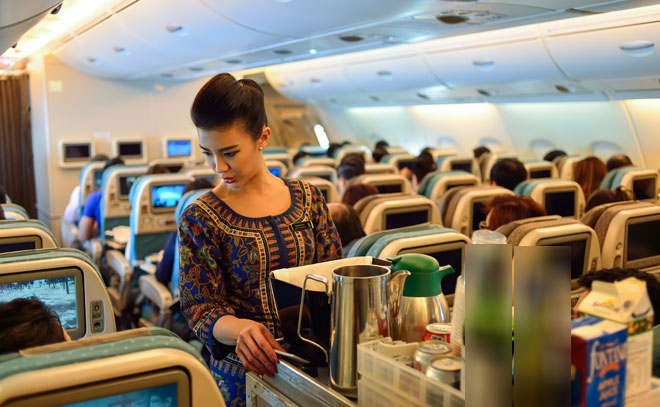 Recently, Emirates Airbus A380 travelled from Dubai to Auckland covering 14,200 kilometres (8,824 miles), completing what is believed to be the world's longest non-stop scheduled commercial flight.
With passengers spending 17 hours 15 minutes in the air, it said the route was also the longest in duration.
I shudder at the thought of being up in the air for 17 long hours. A 6-hour flight is manageable but with double digit hours boredom strikes, altitude sickness hits me, I get claustrophobic and sometimes suffer from barotrauma.
Over the years I have devised ways to overcome these long-haul flight.

So here are 10 tips to survive the next time you are imprisoned in a metal tube for an entire waking day of your life.
Upgrade
Make use of your airline friends or frequent flier miles when it comes to grabbing an upgrade. If the air miles are not enough, be nice and ask at the counter.
If you're not an elite frequent flier but still have some miles banked, you may be able to use them for an upgrade. Keep an eye on your email and sign up to airline groups and schemes. They often send out messages alerting members of upgrade availability. Here are few ways to get an upgrade with paying.
Ask for better seats
If upgrade doesn't happen, at least choose a better seat. If you fail to choose great seats before your flight, try again at the gate.
If the flight is not full, the gate agent may be able to see an empty row, or put you in a window or aisle chairs. Avoid the middle seat - there is a reason why it is called 'middle', you will not enjoy being sandwiched during your long flights.
Hydrate
Avoid diuretics such as coffee, soft drinks and even chocolate (all of which contain caffeine).
Drink enough water to keep yourself hydrated and avoid alcohol. Experts recommend drinking electrolyte solutions, Gatorade being the best known, instead of solely water.
Maintaining electrolyte balance is important, and that you don't want to become completely diluted with water, particularly for older folks or people with other medical problems. The combination of dehydration and stasis is really the issue with blood clots.
Small mercies

I usually travel hassle-free, so no lugging around neck pillows, eye masks, earplugs, noise-canceling headphones, etc - except on a long-haul flight.
These small survivals tool come very handy. You will thank yourself for every small comfort you can provide your body and brain. Noisy co-passengers and bawling babies can give you a headache and the best way to shut out everything is a noise-canceling headphone. If you fly economy, a good neck pillow is a blessing.
Entertain yourself
If you're flying a good airline carrier, there will almost certainly be an on-board, seat-specific entertainment system, with a decent selection of films, TV shows, news programs and games.
Watch movies back to back and stay up-to-date or finish a TV series that you may have otherwise missed due to your hectic work schedule.
Carry your own device
Do not forget to carry your kindle if you love reading. You can download new books onto your tablet or pick up new hard-copy books at the airport to read.
Bring magazines, devices loaded with TV shows, movies, music, podcasts and audiobooks. Take breaks, drink water and stay hydrated, walk around, loosen up your body and get back to your books.
Do not forget to carry an extra power bank.
Clothes you wear
While travelling remember to wear comfortable, loose-fitting clothes but still be presentable. Meaning, no sweat pants or flip-flops or alike. Wear comfortable shoes (closed ones are better as it can get cold in the air) and think about bringing a vest or alike with you. Don't let your clothes make you feel trapped and suffocated.
And if you have to play dress-up while travelling, change your clothes when the flight takes off.
Sleep well
Catch up on your sleep. You will feel so much better when you arrive. Some airlines provide sleep kits, some don't, so having one handy can help. Bring a neck pillow — a good, comfortable one, bring an eye-mask — again, a good one. Sleeping is one of the best ways to kill time and who doesn't want to sleep.
Sleep deprivation can lead to anxiety and stress, so 10 hours will be a good time to live life stress free.
Take a break
Get an aisle seat or exit row so you can get up and walk around whenever possible.
A common health advisory suggests that if a flight lasts longer than four hours, a person is likely to develop deep vein thrombosis (DVT), which is essentially formation of blood clots in deep veins.
Every hour or two, get up and take a walk on the aisle of the plane; make sure to do some stretching and do some laps. Focus on your feet and legs, flex and stretch to encourage blood flow, especially in your calves.
Make friends
The best tip for a pleasant long-haul is to be nice to those around you. If reading is not your thing and sleep is not coming by, try to start a conversation with fellow travellers. Make sure you are not disturbing them and only then strike a conversation.
Avoid asking personal details if you don't want to appear like a stalker. Talk about your travel plans, about the places you have visited, and narrate stories that are has happy ending and not tragic. Kids are a great topic of conversation for parents - they can never stop talking about their children.
Be respectful to other flyers, the flight attendants and everyone else in general, it will make for a much more pleasant trip.
Have a pleasant journey!
Follow Emirates 24|7 on Google News.