Travel: Try the hottest deserts, go heli-skiing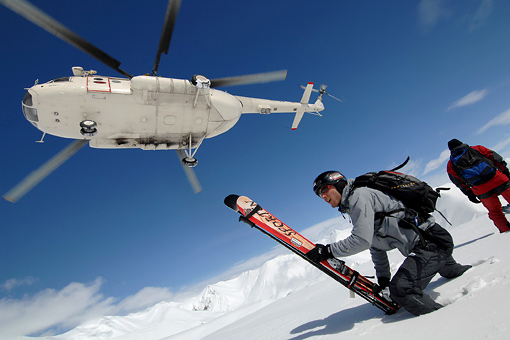 Brave a few "security problems" and trek the mountain ranges of Pakistan, take a vacation in Kuwait where the sand is very, very hot or risk a bit of heli-skiing in Uzbekistan.
If you are a tourist ready to go somewhere a bit different, there is a growing queue of destinations desperate to welcome you; 166 nations jostled for attention this week at the World Tourism Trade Fair in Madrid.
Pakistan International Airlines joined for the first time, keen to get some of the action from 200,000 trade and general public visitors anticipated at the five-day fair ending Sunday.
"We are here to promote our new route from Barcelona to Chicago," two cities with large Pakistani communities, said the airline's Spain director, Saleem Ullah Shahani. "We also wanted to show that Pakistan still exists for tourism, even if the situation is complicated right now," he added, conceding there are some "security problems".
Rising religious extremism is a grave concern in Pakistan, where this month a provincial governor was shot and killed by his own bodyguard because he wanted to amend stringent anti-blasphemy legislation.
And any tourists will probably want to steer clear of the tribal belt of northwestern Pakistan, suspected by Western intelligence agencies to be the global centre of Osama bin Laden's Al-Qaeda.
"Before 2009 we used to take many tourists to Pakistan to go to the mountains, which are more beautiful than in Switzerland. Now there are still tourists but very few," Shahani said.
Pakistan is also keen to foster business tourism, he said. Next month, PIA will take executives from leading Spanish department store chain El Corte Ingles, he said. Spanish clothing chain Zara has already taken a tour; its interest was cheap production of shoes and clothes.
For Kuwait, the challenge is to show off its natural heritage and erase a cliche conception of the country. "Everyone knows us as a petroleum country," lamented state tourism undersecretary Ali Abdullah Al-Baghli.
"We have the nicest deserts in the world, clear skies, a very beautiful coast with sandy beaches and even if the temperature is more than 50 (Celsius, or 122 Farenheit) in July and August, it's dry heat so it's like we are in heaven," he said.
Of course, alcoholic drinks are not allowed in cafes and restaurants. "But we are not a very strict religious country; we have many entertainments," he added.
Kuwait brings in 700,000 tourists a year but it has a 15-year plan to attract families and also "become again the business and financial centre of the region, like we were before the occupation."
Iraqi troops invaded Kuwait on August 2, 1990. On January 17, 1991, a US-led multi-national coalition force launched Operation Desert Storm, a 40-day war that pushed Saddam Hussein's forces out of the wealthy emirate.
Uzbekistan wants to be another tourism magnet. With just 1.3 million arrivals a year now, it nevertheless has high ambitions. It is a country of 28 million people, and "we want to have 28 million tourists," said the national tourism office chief, Rustam Mirzaev.
"We have very important assets but we have not promoted them," the tourism boss said.
Four of Uzbekistan's cities are classified as World Heritage sites by UNESCO, he said.
And for those who want more than culture, the tourism brochure says Uzbekistan is "one of the best places in the world for heli-ski," a sport in which you are dropped off at the top of a mountain slope by helicopter and ski your way down.
Uzbekistan has rejected accusations of mass human rights violations, notably the regime's systematic stifling of all form of opposition, which are regularly voiced by rights groups.

Follow Emirates 24|7 on Google News.