UAE-born Gaza artist lives in 100sqft; builds world in isolation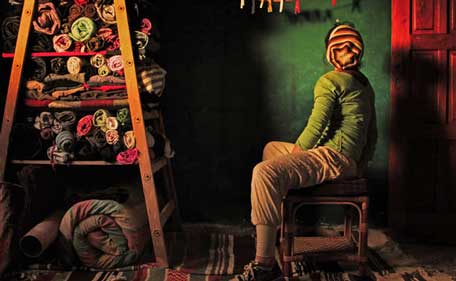 Nidaa Badwan's room is less than 100 square feet, it has a single window and one bulb.
Badwaan waits for the light to create the photographs that look like paintings.
She is an artist in Gaza who has spent the last one year immersed in her art, shutting herself up in her house for that duration.
She has painted one wall with aquamarine paint and covered another in a patchwork pattern of colored egg holders.
Alienated by Gaza's on-going conflict, Badwan, 27, has hardly left the room for more than a year.
Within its walls she has created her own world, and a striking set of self-portraits that are at once classical and cutting-edge.
According to a New York Times report, Badwaan embarked on what she calls the '100 days of Solitude' project, a tribute to Gabriel Garcia Marquez's novel One Hundred Years of Solitude, over a year ago.
In all this time, she has hardly stepped out of her small house in the town of Deir Al-Balah in the central Gaza Strip.
Born in the UAE to Palestinian parents, Badwan began painting at age 6 and moved to this town in the central Gaza Strip in the sixth grade.
She studied interior design at Al Aqsa University in Gaza City and spent a year in Amman, Jordan, working with film and video.
On Nov 18, 2013, Badwan was harassed while helping with a youth arts program. Her unconventional way of dressing was questioned and she was warned not to come out in public wearing what she wore.
The next day, she retreated to her room. She contemplated suicide, struggled with her thoughts and anxiety till she picked up her camera and discovered the magic of light.
Soon she started to love isolation.
Alone in her room but connected to the Internet, she could forget where she was.
Her solitude of more than 100 days, with a sense of alienation with the situation of Palestine and the Gaza Strip, has produced 14 self-portraits, which were exhibited by the Palestinian Art Court – al Hoash in January.
The exhibit, at Al Hoash Gallery in Jerusalem until March 5, next heads to the West Bank cities of Nablus, Ramallah, Hebron and Bethlehem, with hopes for Paris and Berlin.
(Photo Courtesy: Nidaa Badwan Facebook page)
Also see: Movie Listings in UAE
Follow Emirates 24|7 on Google News.