UAE students reach Gran Paradiso summit, Italy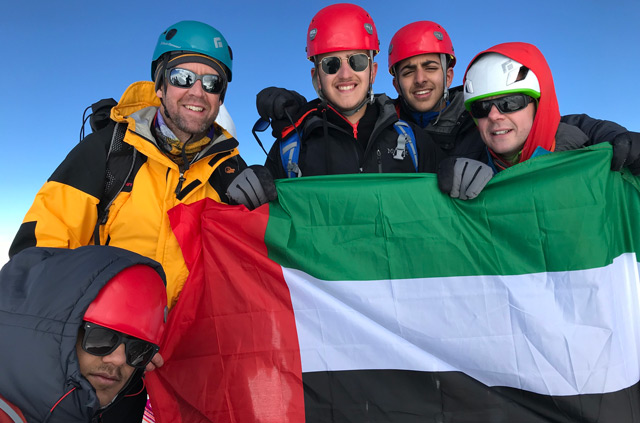 Students from Repton School in Dubai have reached the summit of the Gran Paradiso Mountain in Italy. The team including Sheikh Feisel Al Qassimi, Sultan Al Khandri and Pranjal Bachani, along with Graham Malkin, Director of Outdoor Education at Evolvence Knowledge Investments, embarked on the six-day adventure in the Graian Alps last week.
After four days of training including rope work, glacier travel and climbing with an ice axe and crampons, the team reached their ultimate destination, which is 4,061 metres above sea level.
Amongst the many people to tweet their congratulations was a broadcaster, writer and seasoned adventurer, Ben Fogle, who sent a congratulatory message saying, "Congratulations Repton team Dubai for taking on the beautiful but formidable Gran Paradiso. I admire your tenacity and determination, especially coming from the hot sands of Dubai to the Italian Alps. Huge congratulations to all of you."
David Cook, Headmaster of Repton School in Dubai, said, "This has been an amazing adventure for the team who have shown great determination, spirit and team-work. To have reached the summit on schedule is a really great achievement, and a wonderful feeling for everyone. We are very proud to be erecting both the Repton School and the UAE national flags on this momentous occasion."
The Italian expedition was one of the outdoor education programmes offered by the school, and was designed to challenge students to build on their strengths, recognise their limitations and develop their personality to full potential.
Follow Emirates 24|7 on Google News.