UAE website offers discounted STD tests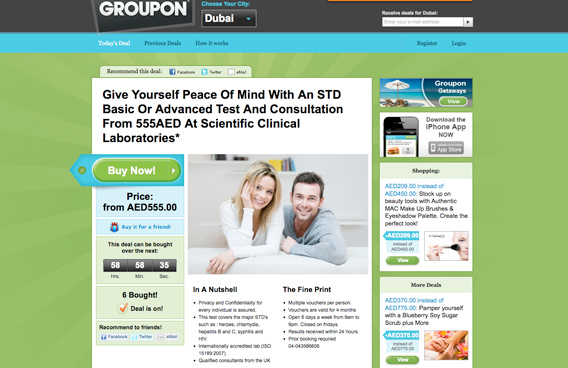 Residents who have subscribed to group-buying discount website, Groupon UAE, woke up Sunday morning to a deal that surprised many in its content.
'Give Yourself Peace Of Mind With An STD Basic Or Advanced Test And Consultation', screamed the headline ever so silently, as Scientific Clinical Laboratories was offering a discounted deal for just Dh555.
At a 40 per cent discount from the original price tag of Dh980, the deal already saw six people nab it by Sunday noon, with 60 hours left on the deal.
The fine print informs interested buyers that the test covers all major sexually transmitted diseases, including herpes, Chlamydia, hepatitis B and C, syphilis and HIV, with privacy and confidentiality assured for everyone being tested.
The Groupon deal is offering buyers multiple vouchers per person, with a four-month validity.
When Emirates 24|7 rang the lab offering the deal, we were informed that the procedure was a simple one, with a representative saying: "We simply ask people in for a consultation, following which we take a blood sample.
"The test is done locally with the help of qualified consultants from the UK and results are emailed within a day, and it's all done privately."
Social media was abuzz with tweets within hours of the deal going up, with reactions ranging from humour to shock and disbelief that such taboo subjects in conservative UAE were being discussed in the open.
Local firm, Spot PR, tweeted: "That's a real marketing classic! #Groupon #STDtest [sic]."
Another wisecrack followed shortly after, with Rohan Ahuja saying: "Be a friend, buy your friend an STD test with this #Groupon."
Sanjeev K. added: "I am shocked; nay appalled that it hasn't sold out yet. #Groupon"
Of course, all those hashtags still weren't enough for the group-buying company's name to trend on Twitter, but not all comments were tongue'n'cheek, with Khaled Buhari saying: "Why should we look at this so negatively? Let's acknowledge the fact that STDs are a fact of life and it can affect anyone. Here's something that is creating awareness about a health issue and urging people to nab this very expensive test at a discount.
"I think anyone who suspects should take advantage of this opportunity."
A few questioned the futility of such a deal, stating that most of UAE residents have to be tested for Hepatitis and HIV to get their visas, so why should anyone bother now?
However, few realise that STDs are diseases that are not just passed from one person to another during an intimate relationship. In fact, there are at least 25 different STDs with blood transfusions, shared personal items and unhygienic practices in salons also being leading causes.
The medical representative at the clinic added: "Non-sterile use of tools for manicures and pedicures at your local salon, or a trip to the dentist where the tools are not hygienic can also cause STDs."
Follow Emirates 24|7 on Google News.