Valentine's Day dinner deals at The Palace Downtown Dubai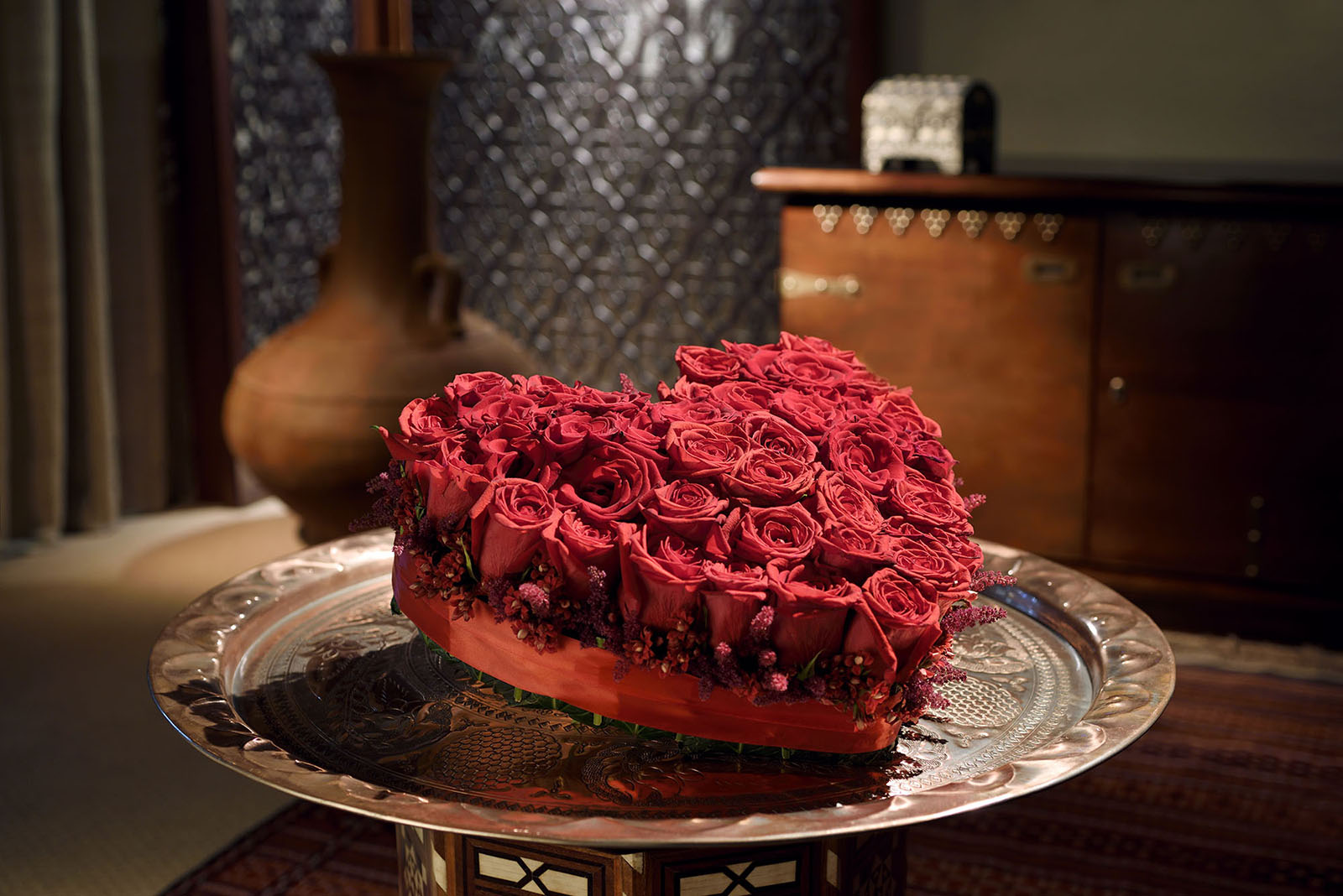 The most romantic time of the year deserves to be celebrated in a venue that is equally as special and as winner of the World Luxury Hotel Awards – Luxury Romantic Hotel in the Middle East, Luxury Wedding Destination and Luxury Honeymoon Hotel, The Palace Downtown Dubai magnifies the magic of each moment with a month dedicated to romance this February.
Set on the banks of Burj Lake, with its inviting warmth and charming Arabesque architecture; marvel at the magnificent Burj Khalifa through the mist of The Dubai Fountain.
The Palace Downtown Dubai is one desirable destination for a thousand expressions of love to create everlasting memories, whether you're looking for a classic celebration, extravagant indulgences or an intimate dinner.
For bookings and more information please call +971 4 428 7888, email dine@thepalace-dubai.com or visit mydubaivalentine.com
Love is in the air at Dubai's Most Romantic Restaurant, Thiptara
Create treasured memories with your special someone as you delight in an exquisite 4-course plated dinner.
Thiptara, which means 'Magic at the Water', is surrounded by the Burj Lake, where the spectacular views of The Dubai Fountain transform this al fresco waterfront restaurant into a truly magical setting for Valentine's Day.
- Single rose and heart shaped chocolate gifted to ladies
- Souvenir of Valentine's Day card with a photo of the couple
- Advance reservation will enjoy a romantic table setup
- Views to The Dubai Fountains and Burj Khalifa
- Winner of Best Romantic and Best Thai Restaurant award
Date: 14 February 2017
Time: 6 pm to 12 am
Price: Dh750 per person, includes 4-course meal plated dinner, with 'For Him' and 'For Her' packages serving hops, red grape, white grape or flavourful mixes.
Love-filled Birthday Celebration at Thiptara
All the ladies that are born in the month of February will enjoy a special treat on us, in the spirit of the season of love.
Come celebrate the Month of Romance at The Palace Downtown Dubai all throughout February, and enjoy a choice between Red Berry Cocktail or Red Berry Mocktail any time you visit us through the month.
- The best views in town of The Dubai Fountains and Burj Khalifa
- Winner of Best Romantic and Best Thai Restaurant award
Date: 1 to 28 February 2017
Time: 6.00 pm to 12 pm
Price: Complimentary
Valentine's Delight Afternoon Tea at Al Bayt
Surprise your partner and satisfy your sweet tooth in one sitting with Al Bayt's exclusive Valentine's Chocolate Afternoon Tea Buffet.
Indulge in a delectable selection of chocolates and desserts, and relax into the romantic ambiance created by the gentle notes of a violinist and harpist.
- Romantic ambiance
- Indulgent selection of chocolates and dessert
Date: 1 to 28 February 2017, every Wednesday, Friday and Saturday
Time: 2 pm to 6 pm
Price: Dh160 per person
The Most Indulgent Valentines Afternoon Tea at Al Bayt
Indulge in the ultimate expression of romance and spoil your loved one with a 50 minute signature massage, our specially designed valentine afternoon tea stands and a bottle of premium sparkling on our terrace at Al Bayt.
- Special decorated tables on the terrace with the views of the Burj Khalifa.
- Special give away
Date: 14th February 2017
Time: 2pm-6pm
Package: Dh2,450 for a couple

It's All About Love at Ewaan
Whisk your Valentine away to Ewaan and treat the special someone to an evening they will cherish for a long time.
Set against a backdrop of regal arches and wooden trellises, luxurious drapery and flamboyant accessories, Ewaan serves a delicious Arabic and Oriental dishes from live cooking stations and a sumptuous buffet.
- Stunning view of Burj Khalifa
- All tables set up on the terrace, with rose petals
- One single rose for all ladies and a chocolate box for couples as souvenir
Date: 14 February 2017
Time: 7 pm to 11.30 pm
Price: Dh275 per person, inclusive of soft beverages
Dh425 per person, inclusive of house beverages
Dine in Bespoke Luxury at The Palace's Private Valentine's Experience
Prove your love in the most remarkable way possible with an exquisite private dinner at The Palace Downtown Dubai.
At a candle-lit table set for two, experience world-class cuisine paired with unparalleled views of the Burj Khalifa and spectacular dancing fountains, as well as romantic notes from a talented violinist. It will be a night neither one of you will forget.
- Candle-lit dinner
- Views of Burj Khalifa and the spectacular Dubai Fountains
Date: 1 to 28 February 2017
Time: 7 pm to 11 pm
Price: Dh25,000 per couple
Starry-eyed Dinner with Argentinean Flair at Asado
Combining the soul of Argentina with the spirit of Dubai, Asado is an iconic destination to celebrate with your Valentine.
Under the glow of candle light and against views of the awe-inspiring Dubai Fountains, enjoy a special crafted menu selection dedicated to the month of romance, in the company of your loved one. A live band will elevate the mood further still, with a selection of Argentinean love songs.
- Romantic candle light
- Views of the Burj Khalifa
Date: 1 to 28 February 2017
Time: 6 pm to 12 pm
Price: Specially crafted a la carte menu available throughout the month
The Ultimate Experience | A Luxurious, Royal Romantic Getaway
In a day dedicated to the senses, together you will indulge in calming treatments and signature massages at the hands of our expert therapists with The Royal Treatment comprising of a 60-minute facial and 60-minute full body massage.
Or for an equally relaxing treatment choose an aromatic oil and let the rest take care of itself with an 80 minute, head to toe massage.
Whatever package you choose, the journey of luxury continues as you relax by the pool and refresh mind, body and soul in the hammam, steam room and Jacuzzi.
Followed by a sparkling date juice, a chocolate-coated strawberry plate and cherished token from The Spa, it has all the makings of an unforgettable experience.
Date: 1 February to 31 March 2017
Time: 9 am to 10 pm
Price: Dh1050 per person and Dh2100 per couple for The Royal Treatment including 60 minute massage and 60 minute facial
Dh850 per person and Dh1,700 per couple for an 80-minute signature massage
Follow Emirates 24|7 on Google News.