Valentine's Day dinner deals in Dubai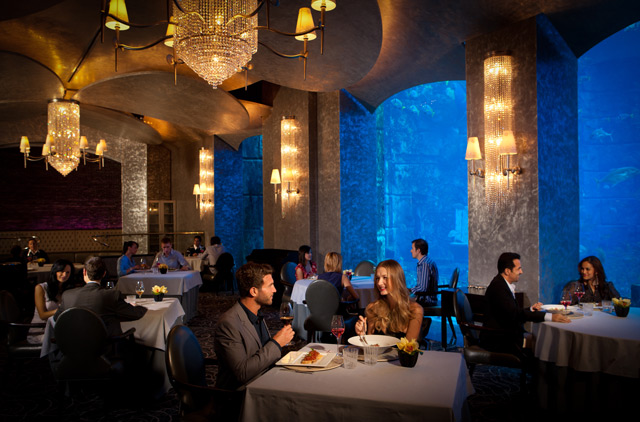 Treat that special someone to a night they'll never forget with the array of offers at Atlantis, The Palm's F&B outlets.
The resort is renowned for being one of the most romantic destinations in the UAE making it the perfect location to show your significant other how much you care.
Royal Beach Valentine's Menu
Price: Dh3,650 per person, Vegetarian menu Dh3,500 per person
Indulge in an exquisite set menu on Atlantis, The Palm's Royal Beach and take in the view of the Arabian Sea or the iconic Palm Jumeirah. Guests will be treated with canapés upon arrival before embarking on a sumptuous 5 course set menu with bubbles.
Bread Street Kitchen and Bar
Price: Dh350 per person for set menu
Bread Street Kitchen and Bar is a lively and exciting restaurant located in The Avenues mirroring the warehouse style of Gordon Ramsay's famous Bread Street Kitchen in London.
Diners can enjoy a 5 course set menu with Grain Fed Fillet of Beef served with foie gras, truffle mash and marrowbone sauce and a Weiss Chocolate and Raspberry Fondant with Rose ice cream for dessert.
Ossiano
Price: Dh995 per person for set menu
Ossiano, the award-winning seafood restaurant with spellbinding views of the Ambassador Lagoon. Guests can enjoy a 7 course set menu with such creations by Chef Gregoire as the Olive Oil Poached Trout served with Kimchee Emulsion and Pomme Soufflees. In addition to this Atlantis, The Palm offers the unique opportunity to propose to a loved one at Ossiano, where divers can hold your request on an underwater sign - price on application.
Ronda Locatelli
Price: Dh295 per person
Created in partnership with Italian celebrity Chef Giorgio Locatelli, Ronda Locatelli presents a sophisticated three-course menu tracing its roots back to classic Italian cuisine.
Diners will be thrilled with San Valentine, a three-course menu filled with delicious Italian dishes with gluten-free options.
Feast the night away on Chestnut Tagliatelle Pasta served with Wild Mushrooms and Butter Sauce or the Char-Grilled Lamb, accompanied with Mint and Pea Purée and Jerusalem Artichokes.
Nobu
Price: Dh550 per person
Created by Chef Nobu Matsuhisa, this world-renowned Japanese restaurant blends cutting edge style with South American influences creating a truly stunning space and a memorable dining experience.
Guests will be greeted with a chocolate infused cocktail before embarking on an incredible array of flavours found in the set menu.
From the Chilean Sea Bass served with White Ariaga caviar butter to the Beef Tenderloin with Red anticucho teriyaki and artichoke chips each bite will be a truly delectable experience.
The set menu also comes with a selection of Nobu's renowned sushi.
Ayamna
Price: Dh350 per person
For an evening of elegance and delectable food, make your way to the newest spot at Atlantis Ayamna.
Translated as 'our memorable days', this Lebanese eatery evokes an essence of times gone by. Patrons can enjoy a selection of Cold and Hot Mezzah dishes or the Arabian Mixed Grill and Grilled Prawns marinated with Saffron for the main course.
The set menu finishes with the appropately named, 'Celebration', a dessert of White Chocolate, Almond Cream, Mini Kunafa and Baklawa Ice Cream.
Seafire
Price: Dh350 per person
Only a few restaurants in the Middle East can claim to have their own cattle reared specially for their diners, and Seafire is one of them.
From the Australian outback to the shores of Dubai, there is more to this steakhouse than meets the culinary eye. With two set menus on offer, one for the meat lovers in the UAE and a vegetarian option, Seafire is truly the perfect destination to celebrate Valentine's.
Saffron
Price: Dh235 per person inclusive of house beverages
Saffron presents an Asian dining drama within a vibrantly bold, contemporary setting featuring theatrical cooking stations.
Diners will relish all the options available this Valentine's with the Sushi & Seafood Bar, Salad Bar, the Live Carving Station and the Korean Station to name a few.
Mazina
Brunch with Love at Mazina
Relax in the plush ambience of Mazina with your loved one as you tuck into a delightfully vibrant and exquisitely abundant Friday brunch set in a romantic themed décor.
Date: 10 February 2017
Time: 12.30 pm to 3.30 pm
Price: Dh315 per person with soft beverages, Dh440 per person house beverages, Dh595 per person with free flow house beverages and bubbly.
Children 6 to 11 years enjoy 50% discount and 5 years and below dine with our compliments.
Shades
Romance under the stars at Shades
Moonlit skies, city lights and romance – a perfect love story. Creating the perfect ambience for your love story to unfold, Shades offers you the opportunity to make your loved one feel special.
The thoughtfully crafted special romantic menu complemented by candle light, a live saxophone player and DJ will set the stage for an evening of sweet memories.
Date: 14 February 2017
Time: 7 pm onwards
Price: Dh550 per person for food only
Romantic Sunset at Shades
Indulge your love in a romantic sunset setting at Shades with an amazing view of the Marina. Start the evening with succulent fresh strawberries and home-made chocolate fondant from our chocolate atelier room, as you watch the boats go by.
Date: 14 February 2017
Time: 4.30 pm to 6.30 pm
Price: Dh180 per person for food only
Nezesaussi
The un-Valentine's Day at Nezesaussi Grill Dubai Marina
Who needs Valentine's Day when you can mingle with like-minded individuals at the biggest singles party in town? Walk in to ladies' night at Nezesaussi, and stay on for the biggest celebration that's not just about love! Tuck into food from the southern hemisphere and sing along to the juke box knowing you're not the only one.
Date: 14 February 2017
Time: 4 pm to 2 am
Follow Emirates 24|7 on Google News.