Versace's new collection inspired by Pakistan, India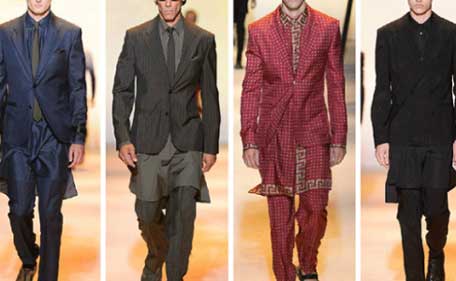 For her Spring/Summer 2016 collection designer Donatella Versace decided it was time to rock the Casbah.
The designer transported those at Milan's men's fashion week to the Middle Eastern desert where she set up camp in a spectacular Ottoman tent constructed entirely out of her signature silk foulard scarves.
AFP
With such a glamorous Arabian Nights set up, Versace produced a collection that was decidedly commercial at its core.
The collection fused the East with West and utility with tailoring. A notion of adventure also met a sports aesthetic in this spring/summer offering.
Versace's attempts to play with lengths, layers and proportions made a seemingly interesting collection but one that had a strong resemblance to the Pakistani or Indian national dress of kurta and pant.
AFP
The fluid layering of longer second skin sweaters and button up tops with suits or trousers both worked with the concept of the collection but also as stand-alone designs.
There were tunics and skirts layered under suits and blousons in perforated khaki leather or printed nylon and opulent silk pyjama-suits in jewel tones that recalled the traditional Kurta garments of Indian and Pakistani dress.
Oversized pockets and washed out khakis gave the feel of a desert uniform to long-spring coats and structured shorts whilst dip-dyed sequin-trimmed sweaters, worn tucked into heavily pleated evening trousers, allowed the designer to play with an iconic camouflage motif.
AFP
Tailoring, a key money spinner for Versace was stripped of too much construction but retained the brand's iconic strong-shouldered silhouette.
This was an encounter between different worlds - Eastern in feel but Western in taste.
Follow Emirates 24|7 on Google News.