We have been doing it wrong - 20 foods we should not refrigerate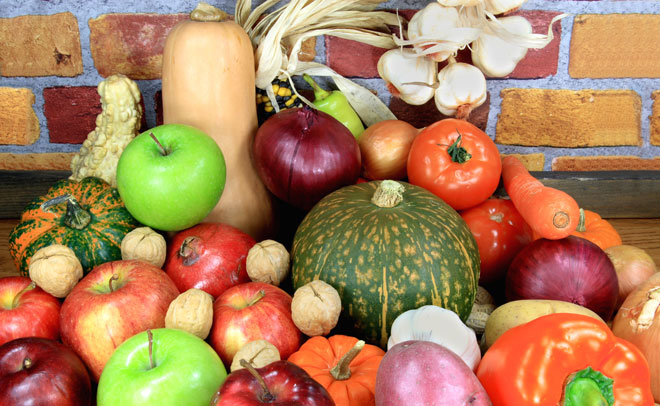 Many of us inadvertently store everything in our fridge - purely out of habit.
Cold storage is a necessity for many foods, but the chilly air of the fridge can have a negative effect on some healthy produce.
Keep these foods at their best by keeping them out of the fridge.
But we should also consider the temperature in Dubai, as the temperature is very high during summer people should pay attention to their fresh produce.
1) POTATO
Our health expert Reem Abdallah says, "Potatoes become unappealingly sweet when refrigerated, their starches turn into sugars at low temperatures." The best place for potatoes is a cool, dark pantry or storage location with good air circulation, and use paper bags or open bins, not plastic bags. The same reaction which occurs in bananas.
2) ONION
If you place cut onion in the fridge, it's softens and gets moldy. The best way to store onions is in a paper bag in a cool, dark spot, away from potatoes. Potatoes tend to release moisture and gases that can cause onions to rot.
3) GARLIC
Refrigeration reduces the flavour of garlic and affects its lifespan as well. The refrigerated environment can actually cause mold to develop. Store garlic in a paper bag in a cool, dark spot.
4) FRUITS
There are several fruits that we keep in the fridge and it's wrong - Avocado, apples, bananas, citrus fruits, berries, peaches, apricots, and nectarines should be stored out of the fridge.
Refrigerating these fruits will result in loss of flavours and textures. Store oranges, lemons, and limes at room temperature on your kitchen counter. Just be careful not to bunch them too closely, or they will tend to mold.
5) STONE FRUITS
Stone fruits such as peach, cherry and plum doesn't like to be refrigerated, therefore it's best to keep them aside in the kitchen until they're ripe, and ready to eat.
6) NUTS & DRIED FRUITS
Cold temp help prevent the natural oil in nuts from going rancid, but it can also stifle the flavour. Shelled nuts can also absorb other odors in the fridge. Nuts will be fine stored in a cool, airtight jars.
7) SAUCE
The vinegar prevents bacterial growth in a sauce. Once the seal is broken the preservatives helps the sauce stay just fine without refrigeration. The heat in the sauce is more potent at room temperature.
8) PACKED TUNA
You might not be sure, but that tuna has been sealed, just like in a can, so it's more than fine stored at room temperature.
9) PICKLES
High on preservatives, pickles will stay fresh outside the fridge. Store it in an open space, so air can move around it.
10) BREAD
There is nothing wrong in keeping bread in fridge if you like eating it dry and devoid of moisture. Instead, keep what you'll eat within four days at room temperature and freeze the rest.
11) HERBS
It's natural instinct to stuff the fresh herbs, you just bought from the grocery, right onto the fridge. But did you know herbs wilt faster in the fridge? You could place them in a water-filled glass jar on your kitchen counter to keep it fresh and crisp.
12) MELONS
Keep whole melons like watermelon, honeydew and cantaloupe at the counter for best flavour. Once refrigerated, they tend to break down and become powdery and grainy. However, after cutting, you can store the melons in the fridge for three to four days.
13) BERRIES
Berries have a short shelf life, so leave them out of the fridge and eat them within a day or two of purchasing.
14) HONEY
Honey can crystallise and sieze up in cold temperature. Room temperature is perfect to keep this natural sweetener perfectly gooey.
15) PEANUT BUTTER
No need of refrigeration, just keep it stored in a cool, dark spot and your peanut butter will be just fine.
16) JAM/JELLY
Take that bottle of jam/jelly out of your fridge now as the high amount of preservatives take care of them at room temp, even after opening.
17) COFFEE
Coffee fares best in an airtight container and in fact, refrigeration condenses coffee and reduces the flavor.
18) SALAD DRESSINGS
Just like other condiments, most salad dressing, especially ones that are vinegar or oil-based, are just fine stored outside the fridge.
However, cream, yogurt, or mayo-based dressings should be stored in the fridge.
19) TOMATO
Tomatoes lose their flavor in the fridge. The reason for this is the cold air in the refrigerator that stops their ripening process and therefore their flavor is endangered. Also, cold air has an impact in the texture of tomatoes because it breaks down the membranes inside the tomatoes and turns them mealy. The best way to keep your tomatoes is in a basket or a glass bowl on the kitchen counter.
20) WINTER SQUASHES
Varieties such as acorn, butternut, delicata, and spaghetti will last for about a month or more in the pantry. These vitamin A and C rich veggies do best when stored at room temperature. On top of that, squash can last for about a month or longer out of the fridge.
Follow Emirates 24|7 on Google News.