Why Miss India Noyonita will win Miss Universe, by Donald Trump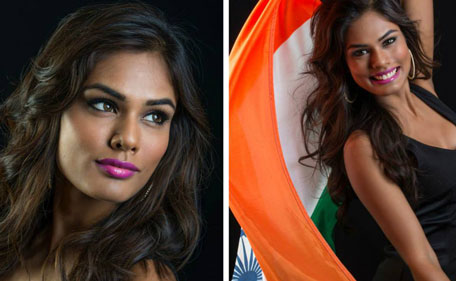 Only two Indian women have won the Miss Universe crown in the past. Sushmita Sen won the title in 1994 and Lara Dutta in 2000.
Since then India's performance has been dismal and the beauties were nowhere near the Top 3 slots.
Noyonita Lodh, of India, walks along the pool during the Yamamay swimsuit runway show. (AP)
But looks like India may have a chance this time. The owner of the coveted Miss Universe pageant, Donald Trump is betting India's gorgeous Noyonita Lodh to win the 2014 title.
Trump tweeted wishing Noyonita Lodh - his 'stunning friend' - to get India's 3rd Miss Universe crown.
Noyonita Lodh. (AFP)

Donald Trump wrote, "@Shinatasangh: My stunning friend @NoyonitaLodh Miss India hope she gets 3rd @MissUniverse crown 4 India @LaraDutta".
The Bangalore beauty hopes she can end India's title drought.
It has been six straight years when Asia missed out on the title and Riyo Mori from Japan was last crowned Miss Universe 2007 in Mexico.
Supplied

Noyonita Lodh
Age: 21
Hometown: Bengaluru
Height: 5' 6"
Language: Hindi, English
Noyonita Lodh is from Bangaluru, India. She is pursuing a degree in Business Management from St. Josephs College of Commerce.
She has won two local pageants at the age of 16 and 18 before she won Miss Universe India 2014.
Supplied
She enjoys adventure and exploring things outside her comfort zone, and has a passion for women empowerment.
It is her warmth that draws your attention and holds it while you unfold the mysterious facets to her personality.
She has the ability to be a great student, always willing to learn and improve; as well as a great teacher, willing to lead and make a significant impact on people.
Anissa Blondin, Miss Belgium 2014; Noyonita Lodh, Miss India 2014; and Elvira Devinamira, Miss Indonesia 2014; getting ready for the OPTX Eyewear putting contest at Trump National Doral Miami. (AFP)
Miss India Universe believes that every moment in life should be a celebration!
Fun Facts:
Noyonita is addicted to desserts.

Shopping is a stress reliever for Noyonita.
Follow Emirates 24|7 on Google News.