Working out but no results? Try these food tips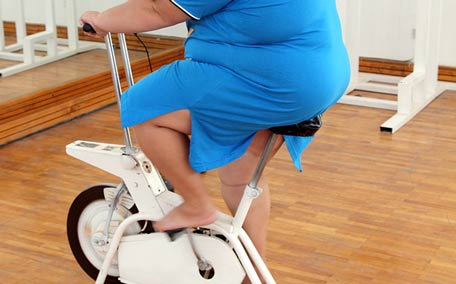 Exercising and healthy eating go hand-in-hand, and the desired results of a workout may not be achieved without a healthy meal plan, argues the Dubai Health Authority (DHA).

In its weekly Twitter clinic, the DHA announced it will carry out several awareness campaigns at walking tracks throughout the emirate over the next 3 months.

"In 2013, we noticed that although some of our patients were regular with exercise but they were following incorrect practices such as not consuming water during exercise, consuming unnatural protein sources etc, " said Wafa Ayesh, Director of Clinical Nutrition at the DHA.

"We then realized that it is important to educate people who exercise about correct nutrition especially before and after exercise so that they can see positive results of exercising and be healthy. People need to understand that exercise and healthy eating go hand-in-hand and therefore awareness of both concepts is necessary."

The DHA has set up booths at Dubai's various walking tracks and will raise awareness about topics such as nutrition for athletes, natural and unnatural sources of protein, ideal foods to consume before and after exercise, the importance of good carbohydrates, hazards of energy drinks etc.

A healthy pre-exercise snack should contain 50% of the calories you expect to burn during your workout.

The snack should ideally constitute 25 to 35% protein, 50 to 60 % carbs and 15 % fats, pointed the DHA out.

Some examples are: nuts and yogurt or figs and yogurt, cheese and crackers, yogurt smoothies, fruit and yogurt, hummus and vegetables, boiled egg with slice of bread, peanut butter jelly sandwich.

While drinking plenty of water before and during the workout, a healthy snack is recommended after the workout as well. If you burn around 600 calories during the exercise, have a snack that contains at least 300 calories, advises the DHA.

The body is in recovery mode and you need to have a nutrient dense meal, with lean protein and little carbohydrates, such as grilled chicken with vegetables, omelette with avocado, or salmon with sweet potato, suggest the specialists.

At the tracks the DHA will also provide free health screening including BMI, blood sugar and blood pressure screening. Physiotherapists will be present to discuss topics such as exercise and posture, and the correct way of exercising to avoid injuries.

The date and location of the campaigns are the following:

Zabeel Park, Gate 3: 4pm to 6pm on 19th Jan, 16th Feb, 16th March and 6th April.

Al Khawaneej: 4pm to 6pm on 26th Jan, 23rd Feb and 23rd March.

Hatta Park: 11am to 1pm on 9th Feb and 9th March.
Follow Emirates 24|7 on Google News.