World's most expensive parking lot at $4.5bn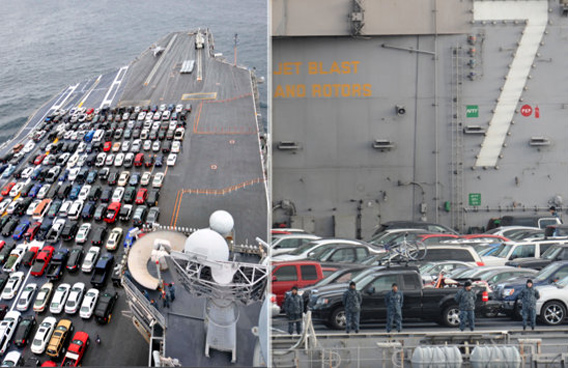 This inconspicuous parking lot is the most exclusive and the most expensive in the world.
Here's why. Take a closer look at the image, and you'll realize that it is not your ordinary car park – it's parking space that's floating in the middle of the ocean.
Yes, what you're looking at is the deck of the USS Ronald Reagan, a giant nuclear-powered aircraft carrier, covered in the vehicles of Navy Sailors and on its way in to Washington's Naval Base Kitsap earlier this week.
At a cost of about $4.5 billion this is undoubtedly the world's most expensive parking lot.
Nearly 3,000 US sailors will be making their homes in Bremerton, the ship's new home port – and they are bringing their cars with them, hence the bizarre spectacle on board deck.
It may seem phenomenal, but this is actually a common occurrence for the Navy and a lot cheaper and easier than transporting the vehicles almost any other way.
The weight of one E-2C Hawkeye is approximately 43,000 pounds, or about 12 cars, and a Nimitz-class carrier usually carries four of those.
While this may not at first seem to be the best way to transport the sailors' vehicles from the ship's permanent base in San Diego, it is in fact cheaper and more efficient than making the men brave the 1,200-mile drive up the west coast.
But more to the point, this does save the US Navy money. First, the only other way to get vehicles owned by Navy sailors to their final destinations is to put them in another ship. Second, if they didn't send soldiers' vehicles they'd have to pay for transportation at the final destination. Both of which would absolutely would cost more money.
Follow Emirates 24|7 on Google News.