Dubai erects gold price display boards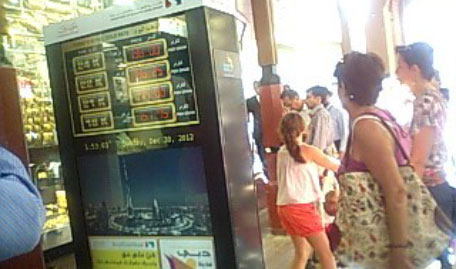 The Consumer Rights Department of Dubai Economic Department and the Dubai Gold and Jewllery Group have introduced new transparent electronic boards to announce the frequently changing gold prices to help consumers, especially tourists thronging the emirate.
Transparent price display board is an initiative to improve consumer rights in the gold and jewllery trade, after recently the weighting and measuring equipment have been standardized by the Emirates Standardization Authority (ESMA).
As the yellow metal prices fluctuated as much as $40 per ounce a single day and $270 increase per ounce in one year (17.9 per cent), traders and consumer are always alert about the latest gold price.
When the prices go up, traders and jewellery outlets are quick to make the changes on their display boards, but when prices fall, many consumers believe that they may not be as prompt.
Speaking to Emirates 24|7 Biju Joy, General Manager, Dubai Gold and Jewllery Group, said four electronic price display boards are already functioning at the Dubai Gold Souq and more such price boards will come up in different parts of the city where gold and jewllery business is predominant.
"The new electronic price tags will show prices of 18 karat, 21 karat and 24 karat gold and the prices will be updated four times a day, morning, afternoon, evening and late evening," he said.
The prices are updated by the Department of Economic Development as part of its consumer awareness campaign.
Gold price has been fluctuating and the price displayed in most jewelry outlets is not updated promptly and regularly. When there is a sudden fall in price, some shops many not update their price displayed on the in-house electronic boards.
Now any customers, tourists and domestic customers alike, can look at these boards to know the current market price and do business without being cheated on prices," said Sajith Kumar KP, Chief Executive Officer, JRG International.
"When prices go up traders may immediately announce the change, but when the prices fall, they may not be prompt to alter the price displayed. The net loser is ordinary consumers and this initiative is welcome step to improve transparency in gold trade," he added.
Four electronic display boards are already installed and more such boards will come up in other parts of the city. This is updated by the Department of Economic Development and the price changes are updated four times a day."
"In one year gold price increased by 17.9 per cent and according to leading commodities brokerage firm, JRG International, updating gold price four times a day is a crucial step to support the consumers. Tourists who are keen to buy gold can check the price from the Department of Economic Development and compare the same with the price offered by a retailer. It is a welcome step to prevent cheating on price by jewllers. The electronic display boards can also display advertisement.
"We are waiting for DEWA approval for electricity to connect more such boards in the Gold Souq. More such price display boards will come up in Dubai Mall, Sona Bazzar and other locations where gold and jwellery business are focused."
Follow Emirates 24|7 on Google News.