Indian stocks hit record, rupee rallies after Modi state win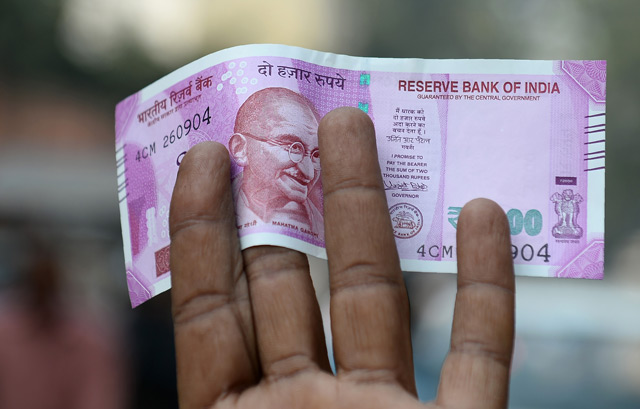 India's NSE index rose as much as 2.1 percent to a record high while the rupee strengthened to a near one-year high on Tuesday, as Prime Minister Narendra Modi's big win in the state of Uttar Pradesh was seen bolstering his economic reform agenda.
Modi's victory in the heartland state, announced on Saturday, strengthens his claim to a second term in national elections in 2019. It also re-ignites investors' faith in him after a radical decision to scrap high-value banknotes in November raised deep concerns about economic growth.
The NSE's record high of 9,122.75 points on Tuesday, the first trading session since the results were announced, surpassed its previous peak of 9,119.20 on March 4, 2015.
Meanwhile, the rupee strengthened to as much as 66.14 per dollar, its strongest level since April last year, after markets were closed on Monday for a public holiday.
Analysts now expect Modi will be emboldened to embark on more reforms including reforming the retail sector, easing labour laws, and cleaning up bad debt at banks.
But any further gains will be tempered by concerns about valuations as well as global risks, including how much the U.S. Federal Reserve will raise U.S. interest rates this year.
"The results ensure sustainability of government policies for the next two years without much political noise," said Ashish Vaidya, executive director and head of trading at DBS Bank in Mumbai.
"However, all financial markets will be driven by global factors. We have to also wait and see when domestic private investment picks up as on-the-ground growth hasn't really improved much."
Modi has long held strong appeal for investors after winning overwhelmingly in 2014 by pledging ambitious economic reforms.
The prime minister has already delivered on some measures, including unveiling a national goods and services tax that will be rolled out this year.
But investors will seek more action, especially in reviving private investments and easing the cost of doing business.
Sentiment is also likely to be tempered given the central bank is expected to hold interest rates this year due to concerns about inflation.
Shares were already trading at a price-to-earnings ratio of 19.85 over the next 12 months, compared with their five-year historic average of 17.8.
The NSE was up 1.6 percent at 0720 GMT, giving up some its initial gains, while the rupee was trading at 66.1850/66.18750 from its 66.60/66.61 close on Friday.
Meanwhile, after initial gains, bonds reversed direction, with the benchmark 10-year bond yield up 1 basis points ahead of consumer inflation data later in the day.
Follow Emirates 24|7 on Google News.