Borse Dubai backs Nasdaq bid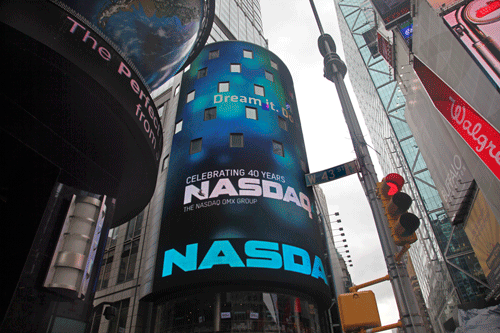 Borse Dubai, the largest shareholder in Nasdaq OMX, backed the exchange's unsolicited $11.3 billion bid for NYSE Euronext, its chairman said on Friday.
Effa Kazin, when asked whether the Dubai-based holding company that has an approximately 29 percent stake in Nasdaq OMX was in favour of the bid, told Reuters: "Yes we are supportive."
He declined any further comment on the offer.
Nasdaq OMX and IntercontinentalExchange unveiled a rival bid to buy NYSE Euronext for about $11.3 billion in cash and stock, a 19 per cent premium to the offer made by German competitor Deutsche Boerse.
The move, announced on Friday, represents an intense bidding war for NYSE Euronext. The new bid could also sit better politically, because the idea of a non-American company taking over the emblematic New York Stock Exchange had stirred some political opposition in the United States.
The offer is valued at $42.50 per share, Nasdaq and IntercontinentalExchange said in the statement. Under the proposal, ICE would purchase NYSE's valuable derivatives business while Nasdaq would acquire its stock exchanges and options businesses.
"It's quite a bold move from Nasdaq and ICE. Certainly I think the premium they're paying is quite high...," said Karl Morris, an analyst at Keefe Bruyette & Woods in London. "It makes you wonder what Deutsche Boerse is going to do about this and I struggle to see how they can lift their bid to match."
NYSE shares jumped about 11 per cent at $39.08 in premarket trading, while Deutsche Boerse shares were down 1.98 per cent at 52.49 euros in Frankfurt.
Nasdaq shares fell 4 per cent and IntercontinentalExchange shares slipped 3 per cent in premarket trade.
Deutsche Boerse unveiled a $10.2 billion takeover bid for NYSE Euronext in February to form the world's largest exchange operator. At the time, Deutsche Boerse Chief Executive Reto Francioni acknowledged that "we have a bumpy road ahead of us."
There have been questions about what the merged company would be called, as the New York Stock Exchange is seen as occupying an iconic role in American business. The deal was seen as accelerating a wave of tie-ups in the increasingly competitive and global exchange business, where companies are linking up and pushing into derivatives to survive and grow.
NYSE Euronext and Deutsche Boerse declined to comment on the new bid.
Under the new bid, NYSE shareholders would receive $14.24 in cash plus 0.4069 in Nasdaq stock.
Under the Deutsche Boerse proposal, which still awaits approval by shareholders and regulators, each share of NYSE Euronext stock would be exchanged for 0.47 share of the combined company's stock.
The exchanges would deliver $1.8 billion in annual revenue and save $740 million in operating costs by combining, Nasdaq OMX and ICE said. That compares with $5.4 billion in combined revenue and $400 million cost savings in the deal outlined by Deutsche Boerse and NYSE.
Within 12 to 18 months, the combined franchise would provide "double-digit accretion" to shareholders, they said. The Deutsche Borse-NYSE transaction would immediately add to adjusted earnings for shareholders, according to those companies.
Nasdaq and ICE have engaged a group of banks, including Bank of America and Wells Fargo, to provide $3.8 billion worth of financing to support the proposed deal.
Reuters
Follow Emirates 24|7 on Google News.