D.Boerse, NYSE in merger talks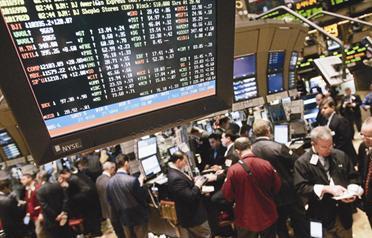 Deutsche Boerse is in advanced talks to buy NYSE Euronext in a deal that would create the world's largest trading powerhouse and put a bastion of American capitalism into foreign hands.
The discussions, announced on Wednesday, came only hours after the London Stock Exchange said it had agreed to buy Canadian market operator TMX, marking a shake-up for an industry under intense cost pressure from upstart electronic rivals, but one that offers new opportunities after the financial crisis in off-exchange derivatives trading.
News of the Deutsche Boerse talks sent NYSE Euronext shares soaring 14 percent to a two-year high and sharply boosted other exchanges on speculation that further match-ups would follow.

"People are staking their positions today with the intention of being a survivor," said Michael Holland, chairman of New York-based money manager Holland & Co. "It may be a good time to be Darwinian."
The LSE's purchase of the Toronto stock market operator would make it the world's fourth largest and a top center for growth sectors of mining and energy, with $4.1 trillion of stock changing hands each year.
But that deal would be dwarfed by a Deutsche Boerse-NYSE Euronext merger, which would give it annual trading volume exceeding $20 trillion.
The combined group would have headquarters in New York and Frankfurt, with Deutsche Boerse shareholders holding about 60 percent of the combined company and NYSE shareholders owning the rest.
The companies said NYSE Euronext Chief Duncan Niederauer would be chief executive of the merged company and Deutsche CEO Reto Francioni would be chairman.
Deutsche Boerse and NYSE Euronext said they could cut costs by 300 million euros ($400 million) a year in a merger, though they added that no accord had been reached.
An industry source said a deal is expected to be announced next week. It would give NYSE Euronext a modest premium and Deutsche Boerse a small governance advantage, notably handing Francioni a more active role as chairman than is usually seen in U.S. companies, the source said.
Aggressive, upstart trading venues have eaten deeply into the market shares of these traditional exchanges, forcing the Big Board, the LSE and others to invest heavily in trading technology and to look to higher-margin areas to grow.
"The smaller players have really changed the face of these larger players around the world, and so they're forced to merge," said William Karsh, former chief operating officer at Direct Edge, one of two privately run US venues that took on the New York Stock Exchange and Nasdaq in recent years.
The takeovers of such national capital markets, and indeed prominent symbols of a country's business prowess, require the approval of securities regulators.
In Canada, the pact met a lukewarm response and may run into political hurdles. Early signals out of Ottawa suggested the government will not quickly approve the takeover of the Toronto Stock Exchange's parent company.
The US Securities and Exchange Commission declined to comment on the possibility of a German-based company acquiring the NYSE -- which lies at the heart of Wall Street and long has been a proud symbol of American finance where share trading first began under a buttonwood tree in 1792.
"That's as big as deals get," said Edward Ditmire, exchanges analyst at Macquarie. "There would be competition concerns, and a list of regulators with a purview over one or the other of these businesses as long as your arm."
MEGA MERGERS ALL OVER AGAIN
The two takeovers - along with Singapore Exchange's planned $7.8 billion purchase of Australia's ASX - revive a wave of international exchange mergers last seen in 2006 and 2007.
Deutsche Boerse-NYSE Euronext would become a giant with a strong grip on profitable derivatives trading. It also would be well positioned to play a bigger role in the over-the-counter swaps market as regulators press for more transparent trading venues and clearinghouses in the wake of the financial crisis.
Last week, both CEOs met in Amsterdam with lawyers, investment banks and staffers and agreed in principle on the deal and to exchange information, though no due diligence has yet been done yet, a source close to the German exchange said.
Deutsche Bank AG and JPMorgan Chase & Co are advising Deutsche Boerse on the merger, while Perella Weinberg is advising NYSE Euronext, a source said. A final deal is expected this month, other sources said.
The banks declined to comment.
Deutsche Boerse and NYSE Euronext - rumoured on and off to be in talks over the last few years - both run stock and options markets and sell related data, and each owns a major European futures market.
European regulators could take issue with the combined company's share of the derivatives market. For instance, it would dominate trading in stock and index derivative products, which had a trading value of 115 billion euros last month, according to Federation of European Securities Exchanges data.
The two companies also are major interest rate and commodity exchanges.
"Even if an agreement is reached, difficulties remain huge," said Martin Peter, analyst at LBBW in Frankfurt. "You also have to keep in mind the cultural differences."
In the United States, experts said they doubted the NYSE takeover would face considerable antitrust concerns. It would create a major competitor for Chicago-based CME Group, currently the world's largest derivatives exchange.
Speculation that further mergers would follow sent options market operator CBOE Holdings Inc shares rising 4.6 percent to $25.60. Shares of Nasdaq OMX Group Inc, which tried and failed to buy the LSE in 2007, jumped 6.7 percent to a two-year high.
Options and futures exchanges have been growing fast, while stock market trading has moved away from traditional exchanges and toward electronic trading venues like privately held BATS and Chi-X.
Five years ago, the Big Board handled the vast majority of trading in NYSE-listed stocks. Its market share is now down to 35 percent.
"I'm astounded this merger that was dismissed two years ago is now back," Adrian Cronje, chief investment officer at Atlanta-based wealth manager Balentine, said of the Deutsche Boerse talks. "This indicates the alternative trading platforms that are out there must be eating into their business faster than people realise."
Follow Emirates 24|7 on Google News.