Dubai, Abu Dhabi indices drop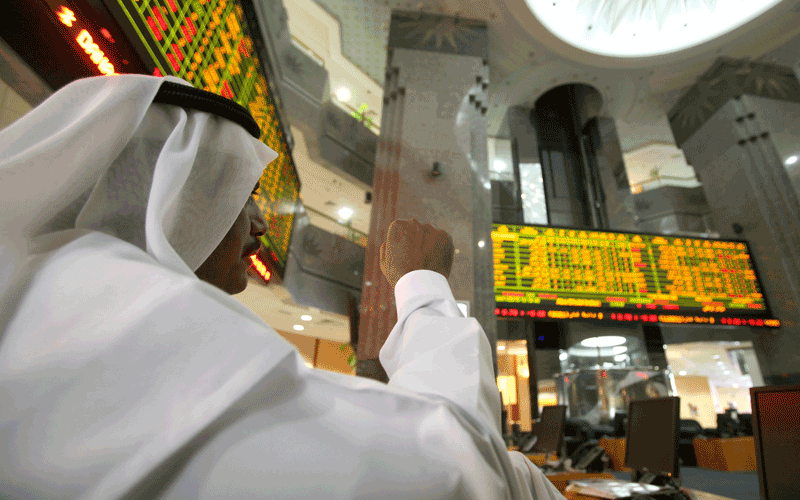 Dubai's index slumped to a four-month low as real estate-related stocks head decliners following Aldar Properties' restructuring plan.
Dubai's index fell 1.5 per cent to 1,601 points, its lowest finish since September 7.
Abu Dhabi's Aldar said it plans to take $2.9 billion in impairments and issue a $760 million convertible bond, with the Abu Dhabi government also buying assets worth $4.5 billion.
Arabtec fell 1.6 per cent. The builder's board will meet later on Sunday to discuss plans for a $108.5 million rights issue and $150 million convertible bond.
Emaar Properties dropped 2.6 per cent and Deyaar slid 3 per cent.
Aldar tumbled to a five-month low after the indebted developer said it plans to take $2.9 billion in impairments and issue a $760 million convertible bond.
These are part of a restructuring plan for the government-linked firm, which has reported losses for four straight quarters.
Abu Dhabi's government will buy assets, land and residential units for $4.5 billion from Aldar, which is facing an estimated Dh11 billion ($3 billion) funding gap in 2011.
Aldar sukuk holders, UAE banks exposed to the developer and Aldar's contractors are big winners from Aldar's restructuring, said Akram Annous, MENA strategist at Al Mal Capital.
Minority shareholders, however, are facing likely dilution from the convertible bond, while the announced impairments will weigh on Aldar's valuation.
"There is a good reason most banks and real estate companies trade at huge discounts to book," said Akram Annous, MENA strategist at Al Mal Capital.
"Their financials don't reflect reality. Nobody believes them. After this restructuring, you won't be able to say that about Aldar.
"I expect the equity market to slowly warm to this (restructuring) news."
Abu Dhabi's index fell 0.9 per cent to 2,713 points, its lowest close since Dec. 29.
Egypt's benchmark index slumped to its lowest close since January 3, with investors jittery that the ousting on Friday of Tunisia's president could lead to wider political instability in the region.
Financial companies lead the decline. Private equity firm Citadel Capital lost 2.1 per cent, investment bank EFG-Hermes 2.3 per cent and Commercial International Bank, Egypt's biggest private bank, 1.4 per cent.
Teymour el-Derini of Naeem Brokerage said regional markets have been hit by the chaos in Tunisia, the collapse of Lebanon's government and the announcement by Abu Dhabi's Aldar Properties it would have to take $2.9 billion of impairments.
"It's all bad news. A lot investors are going to stop and think for a minute," he said.
Maridive & Oil Services declined 1.3 per cent. EFG-Hermes on Thursday downgraded the stock to "neutral" from "buy".
Orascom Telecom gained 0.3 per cent. Vimpelcom's board met on Sunday to discuss a revised $6.6 billion bid for most of Orascom Telecom's assets.
Saudi Arabia's index edged up 0.1 per cent to 6,788 points.
Saudi banks were mixed, despite sector results beating forecasts, on fears lenders will take more provisions in 2011.
SABB fell 1.5 per cent. The lender, 40 per cent owned by HSBC Holdings, made a profit of 397 million riyals ($106 million) in the fourth-quarter, up from 26 million riyals, but operating income fell 6 per cent.
Saudi Investment Bank (SAIB) rises 2.2 per cent after the lender swung into profit in the fourth-quarter.
These results follow last week's above-forecast earnings from Banque Saudi Fransi, Riyad Bank and Bank Saudi Hollandi.
The bank index rose 0.3 per cent to a 15-week high, but is up only 4.5 per cent over the past 12 months amid expectations of more provisions and lacklustre loan growth. The petrochemical index, in contrast, is up 20 per cent over the same period.
"Banks' Q4 results have come in better than expected, but that's because they've taken less provisions, not because operating profits have increased," says a Riyadh-based trader who asked not to be identified.
"Banks will have to take more provisions sooner or later, so it's not really good news and I don't think we'll see bank shares taking off because people know there's more pain to come."
Industries Qatar (IQ) is among gainers as Doha's index hits another 27-month high.
IQ climbed 0.6 per cent to 152.80 riyals, its highest finish since September 2008.
Qatar National Bank (QNB) added 0.5 per cent and Qatar Electricity and Water rose one per cent.
The index edged up 0.07 per cent to 9,243 points, its highest finish since Sept. 29, 2008.
Foreign investors have been net buyers of Qatar stocks for 14 consecutive weeks, said Hani Girgis, assistant chief dealer at Dlala brokerage, and they are likely to hold onto positions at least until companies make dividend payouts for 2010.
"If the index can end this week above 9,200 it will continue to go up, otherwise it may fall to 9,100, or 8,900 at the maximum," Girgis said.
He forecast banks will lead Doha gains as traders bet on bumper fourth-quarter earnings.
Last week, QNB, the country's largest listed lender, reported a 40 per cent rise in quarterly profit, beating analysts' estimates.
Foreigners have been targeting QNB, Qatar Islamic Bank and Masraf Al Rayan in particular, Girgis adds, betting these lenders will be among the biggest beneficiaries from Qatar's multibillion dollar spending plan.
Qatar Islamic fell 1.2 per cent, while Al Rayan ended flat.
\
Kuwait's index slipped 0.2 per cent to 6,923 points, its sixth decline in seven sessions.
Kuwait's Zain ended flat, with investors little moved by a delay in a stake sale to Abu Dhabi's Etisalat. Zain is unchanged at 1.46 dinars.
Etisalat said on Sunday it was still working to complete a "definitive transaction" to buy a stake in Zain for $12 billion, despite missing a Jan. 15 due diligence deadline. This deal is priced at 1.7 dinars per share.
Zain shareholders are likely to remain patient.
"Etisalat has made a generous offer and it has the ability to finance the transaction, so for minority shareholders it's worth waiting for," says Irfan Ellam, Vice President, and Al Mal Capital telecoms analyst.
Bank Muscat ended higher after the lender's fourth-quarter profit beat forecasts. The bank made a quarterly profit of 29.5 million Omani rials ($75.8 million), Reuters calculated, after posting a net loss of 6.68 million rials in the fourth quarter of 2009.
Analysts polled by Reuters had estimated an average fourth quarter profit of 24.4 million rials.
"Bank Muscat's strong results were already factored into the stock price," says Gunjan Gupta, head of research at Oman Arab Bank.
"The operating level performance is in line with our estimates and is supported by fees-based income."
Oman's index edged up 0.01 per cent to 7,027 points.
"Institutional investors are still active on blue-chip stocks," adds Gupta.
Follow Emirates 24|7 on Google News.