Fund managers most positive on UAE equities among GCC markets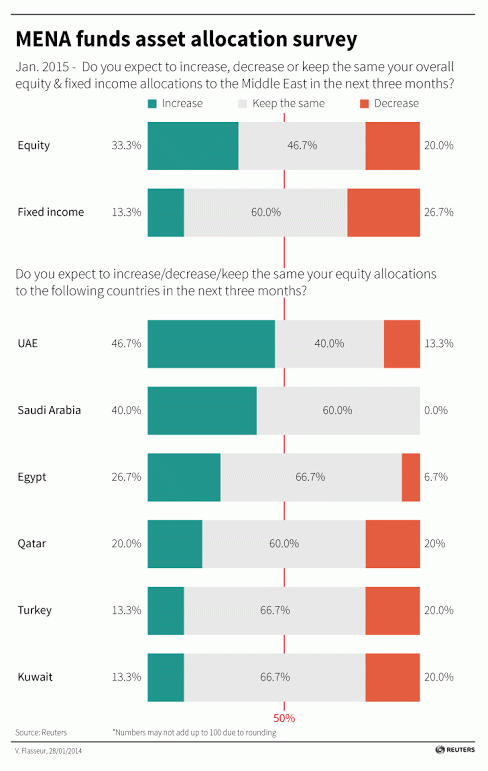 Middle East funds are turning positive on Saudi Arabia's stock market because of signs that oil prices are starting to stabilise, the latest Reuters survey of asset managers shows.

Many fund managers became bearish on Saudi Arabia in the past few months as the oil price plunge promised to slash the earnings of petrochemical producers, which are heavily weighted in the Saudi market, and triggered panic selling of overvalued shares by local retail investors.

In the December survey, 40 per cent of respondents said they expected to cut their Saudi equity allocations in the next three months, while 33 per cent intended to raise them.

The January survey shows a big shift: 40 per cent now expect to increase Saudi equity allocations while none expect to reduce them.

Fund managers said valuations had dropped far enough to start making the Saudi market attractive again.

Also, oil prices may be stabilising; in the past two weeks, Brent oil has traded just below $50 a barrel, and Opec secretary-general Abdulla al-Badri said this week that it might have reached a floor.

This has encouraged some retail investors in the region, as well as funds, to resume focusing on factors other than oil.

"In the last few weeks, there was a decoupling between oil prices and the stock markets," said Shakeel Sarwar, head of asset management at Securities & Investment Co. (Sico) in Bahrain.

One positive factor for Saudi Arabia this year may be bank earnings; the kingdom has banks with relatively high concentrations of low-cost current account and savings account deposits.

So with US interest rates – and hence local rates – widely expected to rise this year, banks' net interest margins may improve. Another positive factor is the smooth royal succession this month following the death of King Abdullah.

After swiftly assuming power, his successor King Salman pledged continuity in policies and appointed younger men as his heirs, apparently settling the succession issue for years to come.

The Reuters survey of 15 leading Middle East investment professionals was conducted over the past 10 days.

UAE

As oil fell in recent months, the survey showed funds staying most positive on UAE stock markets, because of the UAE's relatively diversified economy.

That trend has not changed; the January survey found 47 per cent of managers expecting to raise UAE equity allocations.

Elsewhere in the Gulf, funds are on balance neutral to negative on equities in Qatar and Kuwait.

"The headlines so far have been worse-than-expected results from Qatari companies and improved sentiment in Kuwait," said Bader Al Ghanim, head of asset management at Kuwait's Global Investment House.

"We want to capitalise on this; however, we are being very selective."

Overall, the latest survey suggests many funds remain cautious towards both equities and fixed income, and are moving some money into cash, because of growing uncertainties in the global economy, including the approach of possible US interest rate hikes, the threat of Greece leaving the euro zone, and economic instability in China.

A third of respondents expect to raise their overall equity allocations to the Middle East in the next three months, down from 47 per cent in the previous survey; in both surveys, 20 per cent expected to decrease allocations.

In the latest survey, 13 per cent expect to raise fixed income allocations and 27 per cent to reduce them.
Follow Emirates 24|7 on Google News.