Tax shocker rattles India: Rupee crashes, equities plunge; what's next?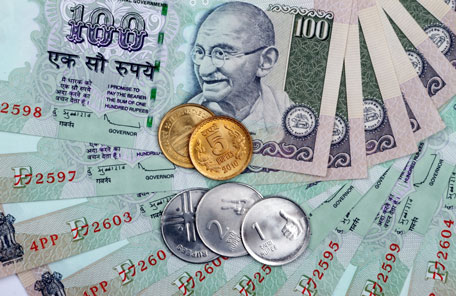 The Indian rupee crashed to a 14-week low of Rs17.20 vs Dh1 this morning even as the benchmark stock market in Mumbai has shed more than 1,100 points, or 4 per cent, in the previous four trading sessions.
Half of that decline in the Bombay Stock Exchange Sensitivity Index (Sensex) came yesterday, with Indian equities witnessing their biggest one-day fall in nearly a month on worries over retrospective taxation for foreign institutional investors (FIIs).
India plans to raise about $6.5 billion (Dh24bn) by taxing foreign firms for capital gains they made in previous years.
The country's Income Tax department has slapped tax notices on FIIs and foreign portfolio investor (FPIs) of Rs40,000 crore towards minimum alternate tax (MAT) after they lost an appeal at the Authority for Advance Rulings against levy of 20 per cent MAT on capital gains they made in years through March 31, 2015.
Finance Minister Arun Jaitley's reassurance last week, saying that if "any government did indulge in that misadventure [retrospective taxation] ever in the future, the cost involved will be too heavy," seems to have had a little effect when markets opened yesterday as FIIs and FPIs pulled out a part of their cash, pushing the markets lower.
However, weekend media reports highlighted that fresh notices have been served to some foreign companies, including Vodafone Group.
The Indian rupee came under pressure owing to several forces pulling it down – the US dollar has been gaining strength relative to other major currencies and Indian importers are looking to buy dollars as month-end payments for oil and other imports loom on the horizon.
Looking forward, the rupee is expected to remain under pressure this week barring intervention by state banks on behalf of the Reserve bank of India to limit volatility in the currency.
Share prices, on the other hand, have been declining steadily over the past four days, with the Sensex plunging from a high of 29,044 points on April 13 to 27,886 points yesterday.
Overseas investors participate in the Indian growth story via equities in a big way. According to data compiled by Central Depository Services, foreign investors pumped in more than $3 billion in the Indian capital markets last month, and total foreign inflows during the first quarter of 2015 touched $13 billion.
In February this year, the 'business-friendly' BJP government deferred the implementation of the controversial General Anti-Avoidance Rules (GAAR) by two years, with Jaitley saying that its immediate applicability can create 'panic' in markets.
However, the recent move by India's tax department to slap tax notices on FIIs and FPIs seems to have done exactly what Jaitley tried to avoid by deferring GAAR, and the dollar seems to be abandoning the country's equity and debt markets.
India's industry body too has put its weight behind the tax department's move, saying there is nothing wrong in government demanding the tax dues from foreign investors "When the government says that there will be no retrospective tax, they are sticking to that, but never did they say that what is due will not be collected," newly appointed CII President Sumit Mazumder told news agency PTI.
"India is not and never will be a tax haven. You (FIIs and FPIs) want to do business in India, you must meet tax obligations of India… nothing wrong in it," he was quoted as saying.
Slower earnings growth is also being a drag on sentiment, traders said, adding taxation worries are further acting as a dampener.
The Indian brokerage arm of investment bank UBS yesterday downgraded its target for the National Stock Exchange's Nifty index to 9,200 points by December from 9,600 earlier to reflect slower earnings growth.
"The reality of a slow growth recovery is now being acknowledged and earnings estimates for FY15/16 have been cut 6-7 per cent over last 6 months – recovery is yet elusive," said Gautam Chhaochharia, head of research at UBS Securities India.
"The revised target also reflects our view of the growth recovery being slower than expected, as is playing out in quarterly corporate results. It does reflect possibility of near-term consolidation and even profit-taking, given limited absolute upside from current levels near-term," Chhaochharia added.
"We remain positive directionally and expect the rates cycle to continue surprising the markets positively. India remains overweight from Asia and EM (emerging markets) perspective," he noted.
Follow Emirates 24|7 on Google News.