Mobile re-registration forms online, but personal visit still needed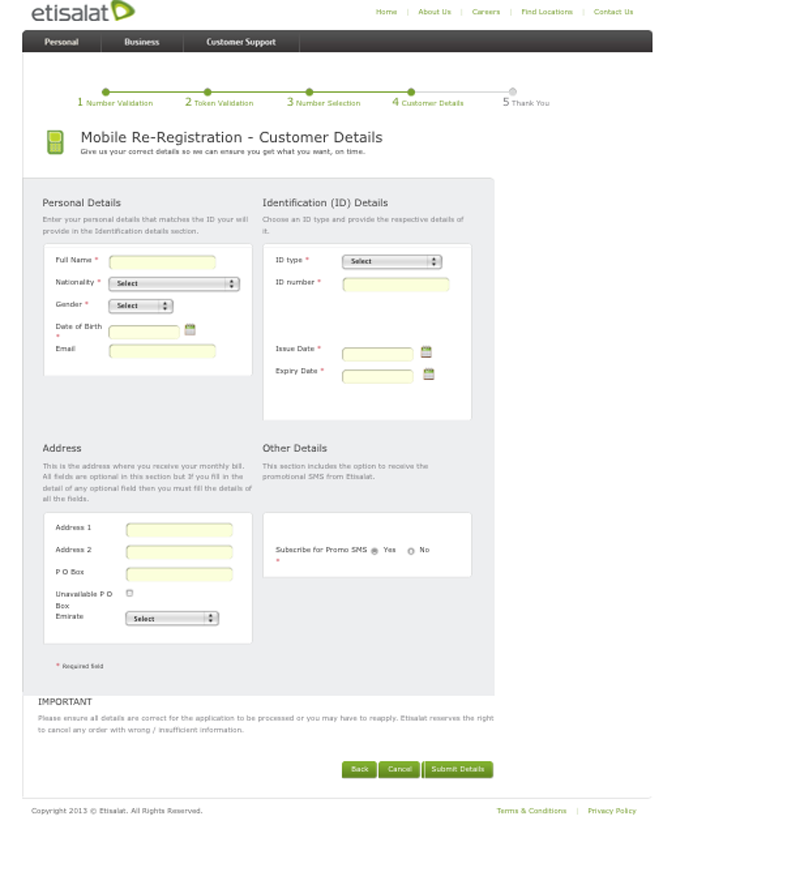 The UAE telecoms operators have now put re-registration forms on their websites, but mobile subscribers still can't re-register online.
A personal visit is mandatory and subscribers need to produce original documents (Emirates ID or passport) to register their SIM under the "My Number My Identity" campaign.
The new service, which etisalat terms as "re-register online", requires subscribers to enter their mobile number following which a token number is sent to their number that is being re-registered. Once the token number is entered online, the screen asks for personal details to be entered along with details of any one of the following identities — Emirates ID, passport, driving license, GCC national ID, work permit or diplomat card.
However, after filling the entire process, etisalat says that the subscribers will have to take the application form along with their original documents for submission at the nearest etisalat centre.
Du, the other telecom operator in the country, has also put the re-registration form online. But it clearly states that subscribers need to fill the form and submit it at any of its shops or with authorised dealers. Subscribers have to carry Emirates ID or passport with valid visa page.
A du call centre employee said: "We don't have any online service yet. As of now and you will have to re-register your SIM, if you have got an SMS, by personally visiting one of our shops or authorised dealers."
Emirates 24l7 reported earlier this month that all UAE mobile phone subscribers will have to re-register their SIM cards whenever they renew or change visas.
"This is a directive by the Telecommunications Regulatory Authority so our subscribers will have to submit their new documents whenever they renew or change their visas," said Yasser Al Yousuf, Director - Premium Personal Market, du.
"For the first re-registration our subscribers have to personally visit our counters, but we are working on providing different options for subsequent registrations and online will be one of them."
Etisalat website also states that the registered and re-registered mobile numbers will stay active as long as the ID is valid.
"Once the ID expired, you have to re-register the mobile numbers again. In case you do not re-register your mobile numbers after ID expiry, then those mobile numbers will be suspended and disconnected," the company says.
Follow Emirates 24|7 on Google News.