10 dead in Abu Dhabi building fire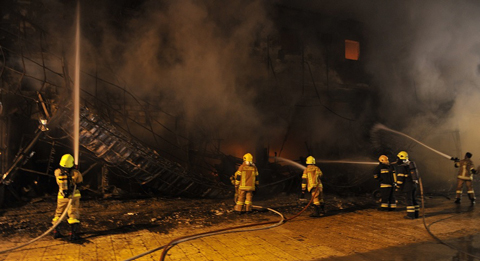 Ten people died and eight others of different nationalities sustained minor to moderate to severe injuries on Friday, in a fire that broke out at a building in Al Mussafah Industrial Area.
The fire started in the first floor of the two-story commercial building that houses seven shops and a car-repair shop, before spreading to the warehouse on the second floor that was used as an illegal accommodation for workers.
The Operations Room at Abu Dhabi Police received notification at 03:44 am on Friday about a fire that broke out in three car repair shops in Al Mussafah. Firefighting units from civil defense fire stations in Al Mussafah M14, Al Wathba, Al Maqtaa, Al Mussafah M33, were immediately dispatched to location to extinguish the fire, supported by units from Madinat Khalifa-B, and Rapid Intervention teams from Madinat Khalifa-A and Madinat Mohammed bin Zayed; Traffic patrols, ambulances, Rescue teams, Security Media, Criminal Investigation Department, and Preventive Medicine.
All of the teams collaborated and managed to put out the fire that gutted the whole building, in order to prevent it from spreading to nearby buildings.
They also evacuated the injured and provided them with first-aid; while Preventive Medicine teams transferred the bodies of the deceased to the hospital.
The Abu Dhabi Police noted that the second floor, which was supposed to a warehouse, was illegally rented out to the ten workers, who died in the fire, while the other eight sustained various injuries.
The police launched an investigation to identify the circumstances of the fire.

Building owner arrested
The Abu Dhabi Police also arrested the building's owner, and is in the process arresting the other suspects, including the building supervisor.
It is worth mentioning that the Abu Dhabi Civil Defense General Directorate had warned investors, workshop owners, and workers of the dangers associated with illegal housing, and indicated that they would show zero tolerance to those who disregard public safety conditions.
Follow Emirates 24|7 on Google News.