15 dead; 46 wounded as rockets hit Ukraine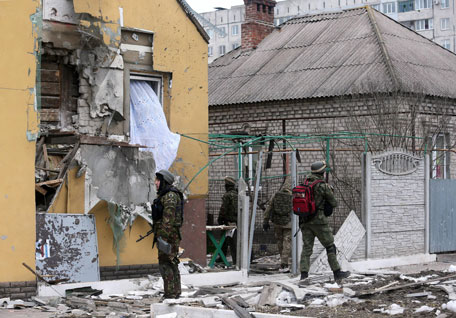 At least 15 people died Saturday when rockets hit a market in a vital port linking Ukrainian rebel lands with Russian-occupied Crimea after the pro-Moscow insurgents vowed to grab more land.

Ukrainian interior ministry said 46 people were wounded in the city of Mariupol when Grad rockets hit a large residential district facing roads that have come under attack from separatist militias in recent days.

The local mayor's office added that several buildings went up in flames and cars were torched in the morning assault.

"Right now there are problems with the cell phone network so it is impossible to call relatives who live in that part of town," Mariupol resident Eduard told AFP by telephone.

"Obviously, everyone in the city is very scared. The rebels have already seized the airport. And now they are starting to destroy Mariupol itself."

Photographs of the attack published on a local news site showed a towering cloud of grey smoke billowing over family homes and a row of high-rise apartment buildings.

The southeastern Sea of Azov city of nearly 500,000 sits on a highway connecting guerrilla-held regions to the east and the Black Sea peninsula of Crimea that Russia annexed from Ukraine in March in a move condemned by the international community.

A rebel assault on the port in August saw Kiev repel the attack at a heavy cost that prompted Ukrainian President Petro Poroshenko to agree to a September 5 truce.

That deal was followed by still more clashes that killed at least 1,500 people and was ultimately rejected by the rebels on Friday.

The separatist leader of Donetsk said on Friday he was ripping up the September agreement and launching an all-out offensive aimed at seizing lands currently under the control of the pro-Western authorities.

"Our side will no longer push for any more truce talks," Alexander Zakharchenko said.

"We are going to advance to the very border of Donetsk province," he added in reference to areas of the heavily Russified region still under government control.

There was no immediate comment on the battle from top rebel commanders.

But an unnamed separatist "defence ministry" source denied any involvement to a pro-Russian website.

"The militias did not open fire on Mariupol -- especially its residential districts," the unidentified militant told the Donetsk News Agency.

Russian involvement?

The August push on Mariupol - an important industrial port that exports Donetsk coal and steel - coincided with the release of Nato satellite imagery purporting to show Russian tanks and crack forces crossing into the war zone.

Moscow denied ever dispatching its units and called Russian soldiers in the area volunteers or troops who were on leave and fighting to protect locals from alleged persecution by nationalists in the new Kiev government.

Ukraine claimed on Monday that Moscow had poured nearly 1,000 more Russia soldiers into the southeast in order to spearhead a new guerrilla offensive designed to conquer huge new swathes of the former Soviet republic.

"Russian terrorist groups have essentially violated all prior ceasefire agreements... and are today assuming active offensive operations," Ukraine's National Security and Defence Council chief Oleksandr Turchynov said on Friday.

"We are talking about active units of the Russian armed forces," Turchynov stressed.

Russian President Vladimir Putin on Friday rejected the charges and blamed Kiev for the latest surge in deaths.

"Artillery is being used, rocket launchers and aviation, and it is used indiscriminantly and over densely populated areas," Putin said.

International monitors said that in recent weeks the average daily death toll was nearly 30 -- a level last seen at the very height of a nine-month war that has claimed more than 5,000 lives.

Moscow concedes that militias have recently gained more ground than allowed under the September truce terms.

Russian Foreign Minister Sergei Lavrov promised during tense talks with his Ukrainian counterpart this week to use Moscow's leverage with the insurgents to rein in their attacks.

Moscow has not yet responded to Zakharchenko's decision to discard peace talks completely and to launch a new campaign.


Follow Emirates 24|7 on Google News.