15 dead in Thai school bus crash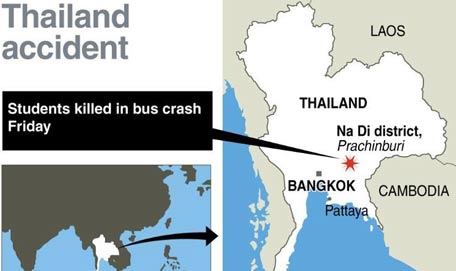 At least 15 people, including 13 children, were killed when a bus carrying students on a trip to the seaside collided with a lorry in eastern Thailand Friday, police said.
More than 30 others were injured in the pre-dawn accident in Prachinburi involving the double-decker bus and an 18-wheel truck, the authorities said.
The students, aged around 10 to 14 years old, were heading to the resort city of Pattaya from the northeastern province of Nakhon Ratchasima.
"Thirteen students and two teachers died - 11 of them at the scene - and more than 30 injured are in three nearby hospitals," Police Lieutenant Colonel Anukarn Thamvijarn said by telephone.
He said five of the injured were in a serious condition.
"The bus's brakes may have failed or the driver might have fallen asleep," he said.
The accident reportedly happened on a steep and winding stretch of highway.
Local media showed pictures of a row of bodies covered by sheets laid out by the side of the wreckage of the bus, whose top deck was crushed on one side.
Thailand's roads are among the most dangerous in the world.
A recent report by the World Health Organization said the country saw some 38.1 road deaths per 100,000 people - behind only the Dominican Republic in the Caribbean and the South Pacific island of Niue.
That compares with an average of 18.5 in Southeast Asia as a whole.
In December dozens of people were killed when a bus carrying New Year travellers plunged off one of Thailand's highest bridges in the kingdom's northeast.
At least 20 people were killed in October when a tour bus carrying elderly Buddhist devotees fell into a ravine, also in the northeast.
Follow Emirates 24|7 on Google News.