2 kids dead; 30 rockets fired over Mali; UN condemns attack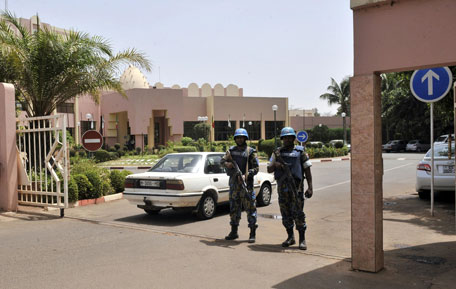 The UN Security Council strongly condemned the "heinous" attack on a UN peacekeeping base in northern Mali on Sunday and warned that those responsible will be held accountable.

A Chadian peacekeeper and two children died when the attackers fired more than 30 rockets at the barracks in the northern city of Kidal in the early morning hours.

In a statement by its 15 members, the Security Council called on the Malian government to swiftly investigate and bring the perpetrators to justice.

The council "stressed that those responsible for the attack shall be held accountable," and underlined that attacks targeting peacekeepers may constitute war crimes.

The top UN body called on all sides to refrain from actions that could jeopardize peace efforts and reiterated a threat to impose sanctions against those who resume hostilities in Mali.

The attack on the UN base in Kidal came a day after a masked gunman burst into a Bamako nightclub, opened fire and threw grenades, killing five people, including a French national and a Belgian.

And a week ago, the Malian government signed an agreement with some northern armed groups to hand over more authority to northern Mali in a bid to stabilize the region.

The main Tuareg alliance, known as the Coordination, did not sign on to the deal and asked for more time to consult with its grassroot members.

The Security Council and UN Secretary-General Ban Ki-moon had both urged the Tuaregs to agree to the deal, arguing that it represented an important opportunity for peace.

Ban strongly condemned Sunday's attack that also injured eight peacekeepers and three civilians, all children.

"The killing of UN peacekeepers and civilian Malians is intolerable and a breach of international humanitarian law," Ban said in a statement.

"This flagrant attempt to obstruct progress at a crucial moment in the Malian peace process is reprehensible."

With more than 30 peacekeepers killed since UN troops were deployed in northern Mali in 2013, Minsuma is considered the UN's most dangerous mission, with Chad suffering heavy losses.

Militants seized control of northern Mali for more than nine months until a French-led military intervention in 2013 that partly drove them from the region.
Follow Emirates 24|7 on Google News.