24-year-old locked up in filthy shed for 6 years by parents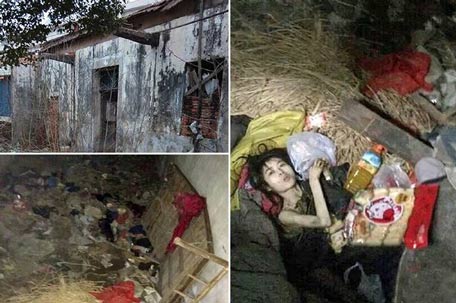 A teenager was locked into a filthy shed after her parents discovered that they did not 'like' her boyfriend.

Zhang Qi was forced to get rid of her boyfriend. However, even after cutting ties with him, she tried to run away several times.

The parents locked her up and treated her like an animal for six years.

Zhang Qi is 24 years old now and is still locked up in that shed in Jingang in China's Hubei province. a villager was quoted as saying in UK daily Mirror.

The parents have a lot of influence in the region and they told everyone that their daghter was mentally ill and was locked up for her own protection. They also made it clear that they would not welcome any intervention in what they considered to be their private matter.

A 50-year-old man who visits his village around the New Year would visit the girl in secret every year. Finally, this year he decided enough was enough when he found her in a pathetic condition, lying on a pile of straw with some food kept around her. He decided to do something about it. He clicked some images and share the girl's story as the officials in the area refused to take any action against the parents.

The UK daily claimed that although there has been no official comment on the status of the woman, however, some of the woman's images that had gone viral on the internet, have been removed by Chinese censors.
Follow Emirates 24|7 on Google News.