25 injured when taxi plows into crowd in San Diego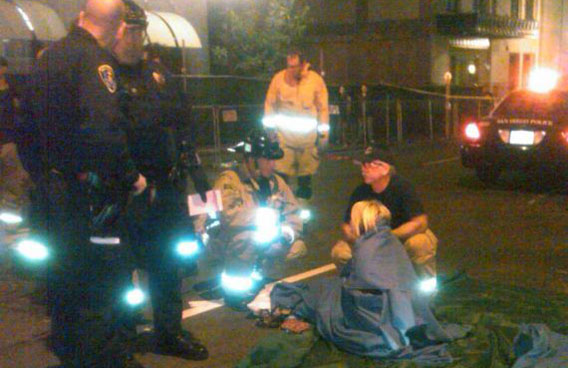 A taxi driver plowed slowly through a crowd on a sidewalk in a popular restaurant and nightclub zone early Saturday, severing the leg of one woman and injuring more than two dozen other people, police said.
The crash occurred about 2 a.m. in the heart of the busy Gaslamp District as revelers were heading home, according to police Sgt. Ray Battrick. Witnesses said the cab was traveling around 15 miles an hour.
The driver sustained a broken nose after being beaten by people in the crowd, who also smashed windows on the taxi, Battrick said. Security guards from a nearby nightclub intervened and detained the driver until police arrived, and he was transported to a hospital.
The crash did not appear to be intentional, authorities said.
Police said 25 people were injured. All but two were taken to area hospitals.
An off-duty military paramedic who had been at a nearby club told the San Diego Union-Tribune the scene was initially chaos, with people screaming and yelling. He said he went to the aid of three of the injured who were lying in the street and assisted them until paramedics arrived minutes later.
One young woman was pinned against a wall by the cab and had her leg severed, Battrick said.
At least 17 people who were transported to hospitals had injuries such as broken bones, cuts and bruises, said Maurice Luque, a fire department spokesman. He said no one required CPR.
Spokespeople at UCSD Medical Center and Scripps Hospital system confirmed treating victims from the collision. They would not disclose patients' conditions, citing privacy laws.
A spokeswoman from Alvarado Hospital said it treated two patients with minor injuries. Both were released.
Twelve ambulances were used, some of them making more than one hospital trip, according to the Union-Tribune. Fifty-five firefighters, paramedics and support personnel from the fire department responded.
Police are investigating why the driver drove onto the sidewalk. Officer Michael Stirk said the driver, who is between 40 and 50 years old, might have fallen asleep or passed out.
Alcohol was not involved, he said.
Police said it was fortunate the cab was moving relatively slowly.
"Even if he had been going 25 miles per hour, it would have been a different story," police Lt. Todd Jarvis told the Union-Tribune. "We were fortunate there were no fatalities in this incident with that many pedestrians on the sidewalk."
Authorities had no immediate plans to arrest the driver.
Follow Emirates 24|7 on Google News.