2nd California patient tests negative for Ebola hours after first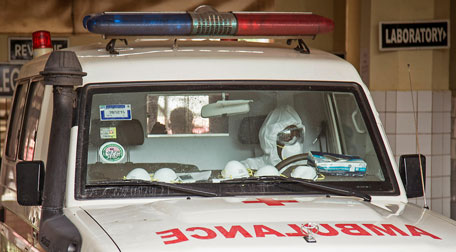 Two patients hospitalized in Sacramento, California, and tested for possible Ebola infection were found to be free of the deadly virus within hours of each other on Friday.

The first patient, whose case came to light on Thursday, was transferred that day to the University of California-Davis Medical Center from a smaller hospital after having traveled recently in West Africa and exhibiting Ebola-like symptoms, officials said.

Test results for that individual came back negative on Friday morning.

Within hours, the Kaiser Permanente South Sacramento Medical Center reported it had admitted a second patient for Ebola testing on Wednesday at the request of state public health authorities and the US Centers for Disease Control and Prevention.

Later on Friday, Kaiser announced that the second patient also had been found to be clear of infection and was being discharged. A UC Davis spokeswoman said its patient remained hospitalized there for the time being.

Health authorities would not say whether they believed the two cases to be related or whether the second patient had traveled recently in West Africa, epicenter of the worst Ebola epidemic on record, as had the first. Kaiser made no mention of any symptoms.

No information about either individual's identity, background or even gender was released.

The back-to-back Ebola inquiries came five months after another person in Sacramento was hospitalized for testing and also found free of the disease.

At least 10 people are known to have been treated for Ebola in the United States, four of them diagnosed with the disease on U.S. soil, during a West African epidemic that has killed at least 8,800 people, mostly in Liberia, Sierra Leone and Guinea.

Only two people are known to have contracted the virus in the United States - both of them nurses who treated an Ebola patient from Liberia who became sick while visiting Dallas. That man, Thomas Duncan, died in October.

The Atlanta-based CDC gave approval to Sacramento County Public Health Department in the past month to test blood samples of potential Ebola cases in its own laboratory rather than requiring samples to be sent to the CDC for analysis, said Laura McCasland, a county spokeswoman said.

The new protocol reduces the turnaround time for such lab results from days to about 24 hours, she said.
Follow Emirates 24|7 on Google News.