3 bad work habits UAE employees can quit in 2015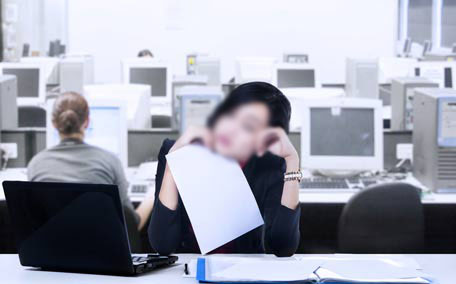 If you still haven't made your New Year resolutions, why not resolve to quit some bad work habits this year?

Ditching some bad ones will not only make you a more productive and pleasant colleague to work with but will also ensure that you become an asset to your employer, which will mean a happier and more fulfilling and successful work life for you.

Here are three bad work habits that you may wish to overcome this year to make you more productive.

1# Stop being late

An employee serious about his work and job respects time. It's excusable to be late once in a while if you have a valid reason but if it's become an everyday affair for you, perhaps now is the time to ditch this bad habit.

Factor in the time spent on your commute on the roads in Dubai, especially now that the schools have opened up after the winter break. Try leaving home 15 minutes early to make sure you are in office on time.

And, if the traffic is really bad in the mornings then try some other routes as well. Many employees who report on time leave home early before the school and office rush begins on the roads. Don't grudge paying Salik in the mornings if toll routes can save you time and hassle.

If you carry the tag of "being always late for everything" at work, untag yourself from it this year and be an employee who is always early or on time.

2# Office time is not for personal work

Don't come to work with a whole list of personal errands that you need to do. Many times employees use their paid work time to do all sorts of things that they should be doing at home.

It could be paying the Dewa bills online, looking for deals and discounts during the Dubai Shopping Festival, coordinating with your child's school bus driver or booking the desert safari tickets for visitors, who you may be expecting soon.

Social media also plays a role here. According to a previous survey by job portal Bayt.com, technology has not just made work easier but it also distracts employees from the very work they are to accomplish.

The Bayt.com 'Distractions at Work in the Mena' poll, conducted by job site has revealed that more than half of respondents in the Middle East and North Africa (Mena) region find distraction at work to be a big problem.

Employees often chat online with family and friends, spend time on twitter and Facebook during the time they should be working for the company they are employed with.

It can be a long list of distractions and most of us are guilty of doing so. Let the New Year be different by refraining from doing all kinds of personal chores while at work.

3# Don't search for a job while at job

You may be disillusioned with your job and one of your New Year resolutions could be to get another job and a better one too.

But, just as the number 2 habit, try not to look for another job while you are in office. It's not only wrong to waste your employer's time but it can land you in trouble if someone were to discover your job hunting, jeopardizing your prospects in your current company.
Follow Emirates 24|7 on Google News.