3 die in deadly road crashes in UAE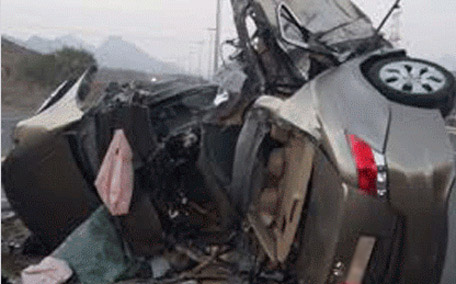 An Emirati woman was killed in a road accident on Al Bathna Road in Fujairah, reported Emarat Al Youm.
The 23-year-old woman was driving the car when the vehicle rammed into a light post, killing her on the spot, the paper added.

Police patrol including rescue team and ambulance rushed to the site upon receiving information and found the woman trapped inside the vehicle.
Civil defence team had to cut open the vehicle to get to the victim, who was found dead.
Car flips over killing 24-year-old Emirati
An Emirati man was killed and another suffered injuries in an accident on Al Madeek Road in Kalba, reported Emarat Al Youm.
Colonel Ahmed Abdullah bin Yaroof of Kalba police station said that the 24-year-old man succumbed to his injuries nine hours later.
Initial investigations reveal that the vehicle swerved while negotiating a bend in road, when the driver lost control and the car flipped over.
Police official urged motorists to abide by traffic rules and drive safe.
Asian rams into truck parked on roadside; dies
A 31-year-old Asian died when his car rammed into a truck parked on the road side along Emirates Road, reported Al Khaleej daily.
Colonel Saif Muhair Al Mazrouei, Director-General, Dubai Traffic Police, said the first 20 days of January has seen 10 traffic-related deaths.
Among them, three accidents resulted from over-speeding and lack of attention on road, he added.
Syrian woman hurt in Sharjah accident
A Syrian woman suffered injuries when she lost control of her car while negotiating a bend along Al Mamzar Road in Sharjah on Tuesday morning, reported Emarat Al Youm
Sharjah Police said initial investigations reveal over-speeding as the cause.
Ambulance, including police rescue team, rushed to the site no sooner than they received information of the mishap and transferred the woman to hospital.
Sharjah Police urged motorists to abide by traffic rule and respect speed limits.
Follow Emirates 24|7 on Google News.