35 killed in stampede after fake money thrown from building on New Year Eve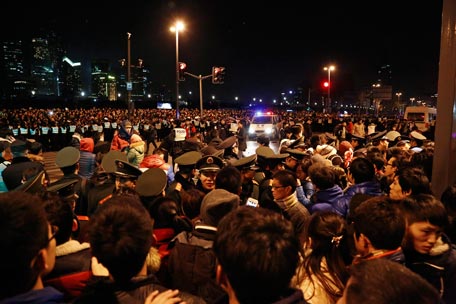 A stampede killed at least 35 people during New Year's Eve celebrations in Shanghai, authorities said, possibly caused by people rushing to pick up fake money thrown from a building overlooking the city's famous Bund waterfront district.
The Shanghai government said that large crowds started to stampede in Chen Yi Square on the Bund just before midnight, with authorities working to rescue and aid the wounded.
The trigger for the stampede has still to be confirmed, but state media and witnesses said the incident was at least partly caused when people tried picking up fake money thrown from a building.
A man who brought one of the 48 injured to a local hospital for treatment said fake money had been thrown down from a bar above the street as part of the New Year's Eve celebrations. People rushed to pick up the money, triggering the stampede, said the man, who gave his family name as Wu.
Cui Tingting, 27, said she had picked up some of the bank notes but had thrown them away when she realised they were fake.
"It's too cruel. People in front of us had already fallen to the floor, and others were stepping all over them," she said.
Another witness, who gave his family name as Wei, said there also had been a problem away from the area where the fake bills were thrown, with people trying to get onto a raised platform overlooking the river.
Dozens of distraught relatives gathered in the hospital lobby waiting for news, with some expressing frustration over a lack of information as police held them back.
"Many relatives have asked to go inside and asked the hospital to give us a list of the injured, including the conscious and unconscious ones who are being treated in there, but nobody got back to us," said a relative who gave her family name as Fan.
"Six hours have passed, but we still don't have any information," she added.
Xinhua news agency said many of the dead and injured were students. Some were young children.
President Xi Jinping has the Shanghai government to get to the bottom of the incident as soon as possible, and ordered governments across the country to ensure a similar disaster could not happen again, state television said.
The Shanghai government said on its official microblog that an inquiry had begun.
Photographs on Weibo, the Chinese version of Twitter, showed densely packed crowds of revelers along the Bund where buildings from Shanghai's pre-communist heyday face the Huangpu River and house upscale restaurants, bars, shops and hotels.
Some photographs showed rescue workers trying to resuscitate victims lying on the pavement while ambulances waited nearby.
Authorities had shown some concern about crowd control in the days leading up to New Year's Eve. They recently cancelled an annual 3D laser show on the Bund that last year attracted as many as 300,000 people.
At dawn on Thursday, there were still small crowds of revelers trying to find taxis home and workers were clearing up trash strewn around the Bund. There was little sign of the mayhem that had broken out just hours earlier.
In 2004, 37 people died in a stampede in northern Beijing, on a bridge at a scenic spot, during the Lunar New Year holiday.
Follow Emirates 24|7 on Google News.