4 killed when bus plunges onto train tracks in Finland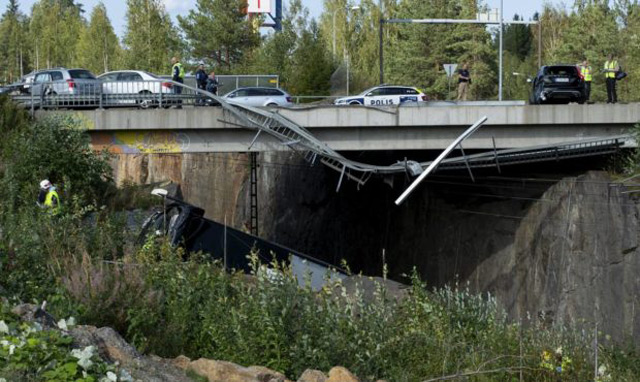 A bus plunged about 10 meters (33 feet) from a bridge onto railway tracks in central Finland Friday, killing four people and injuring more than 20, two of them seriously, police said.
The bus smashed into five cars stopped at a red light in the city of Kuopio before going off the edge and falling onto the line, police spokesman Miika Mutanen told The Associated Press. Photos showed the white bus on its side on the tracks with the bridge rail broken.
"We spoke briefly to the bus driver who told us he wanted to brake but they didn't work and that he tried to avoid" other vehicles, Mutanen said.
There was no train on the tracks at the time of the accident at around 3 p.m.
Authorities told a news conference that the bus was headed south to the city of Jyvaskyla and was driving up a highway ramp. It continued straight ahead and plunged onto the railway tracks on the opposite side of the ramp.
Mutanen said two people were seriously injured and 20 others were brought to the hospital in Kuopio, some 350 kilometers (220 miles) northeast of Helsinki, with minor injuries.
Mutanen said it was not immediately clear who was traveling on the bus which belonged to the Kemin Liikenne company. Finnish broadcaster YLE said there were no children among the victims.
Finnish railway operator VR said that all train traffic on the stretch had been halted and passengers were being transported by bus instead.
Finnish Prime Minister Juha Sipila tweeted "sad news from Kuopio," and expressed his condolences to the victims.
Follow Emirates 24|7 on Google News.