44 dead as record rains devastate parts of Japan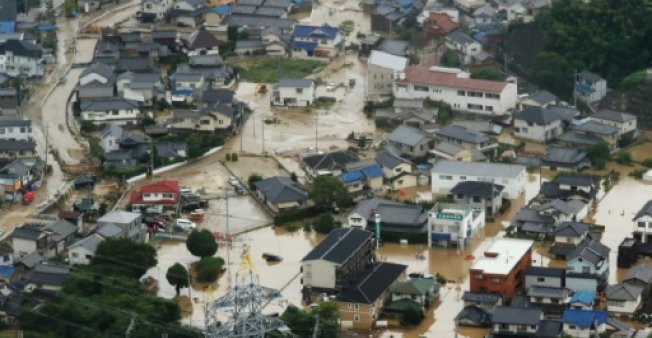 The toll in record rains that have devastated parts of Japan rose Sunday to at least 44, officials said, with authorities issuing new warnings as torrential downpours continued.
Local media put the toll at 50, with dozens more missing and the number of fatalities expected to rise further.
The official toll includes one person killed last week, when the typhoon system that brought the heavy rains first made landfall in Japan, but most of the deaths have been reported in the last few days.
The rain, which has been worst in western parts of the country, has completely blanketed some villages, forcing desperate residents to take shelter on their rooftops with flood water swirling below as they waited for rescue.
The torrential downpours have caused flash flooding and landslides, and prompted authorities to order the evacuation of two million people.
Hundreds have been injured and dozens of homes have been completely destroyed in the disastrous downpours.
"We are carrying out rescue operations around the clock," Yoshihide Fujitani, a disaster management official in Hiroshima prefecture, told AFP.
"We are also looking after evacuees and restoring lifeline infrastructure like water and gas," he added.
"We are doing our best."
A government official told AFP a special crisis cell had been created to respond to the disaster and would hold a meeting chaired by Prime Minister Shinzo Abe on Sunday morning.
On Saturday, Abe warned at an emergency government meeting that "the situation is extremely serious" and ordered his government to "make an all-out effort" to rescue those affected.
Tens of thousands of rescue workers, police and military personnel have been mobilised to respond to the disaster, and the meteorological agency has issued its highest level warning for affected areas.
- 'My house washed away' -
Flooding has engulfed entire villages, submerging streets up to roof level. In some places, just the top of traffic lights could be seen above the rising waters.
"My house was simply washed away and completely destroyed," Toshihide Takigawa, a 35-year-old employee at a gas station in Hiroshima, told the Nikkei daily on Saturday.
"I was in a car and massive floods of water gushed towards me from the front and back and then engulfed the road. I was just able to escape, but I was terrified," 62-year-old Yuzo Hori told the Mainichi Shimbun daily in Hiroshima.
Though the typhoon began last week, the worst of the rain hit from Thursday, when a construction worker was swept away by floodwaters in Hyogo prefecture in western Japan.
The toll has risen steadily since then, with many of those reported missing later confirmed dead.
The conditions made rescue operations difficult, with some desperate citizens taking to Twitter to call for help.
"Water came to the middle of the second floor," a woman in Kurashiki, Okayama wrote, posting a picture of her room half swamped by flooding.
"The kids could not climb up to the rooftop," she said. "My body temperature has lowered. Rescue us quickly. Help us."
In some place, with the flooding making roads impassable, rescuers were using boats or helicopters to airlift those affected to safety.
Several major manufacturers, including carmakers Daihatsu and Mitsubishi, said they had suspended operations at plants in the affected areas.
The disaster is the deadliest rain-related crisis in Japan since 2014, when at least 74 people were killed in landslides caused by torrential downpours in the Hiroshima region.
By Sunday morning, high level alerts had been lifted for some affected areas as the rain began to ease.
But elsewhere in western and central Japan torrential rain was continuing to fall, and the agency issued new top-level warnings for Kochi and Ehime, in the west of the country.
Follow Emirates 24|7 on Google News.