5 men killed when car plunges into canal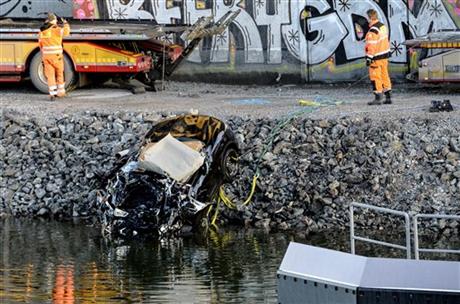 Five British men, reportedly including members of British indie band Viola Beach, were killed when their car drove through a barrier and plunged into a canal near Stockholm.
Stockholm Police spokesman Martin Bergholm said that the accident on Saturday afternoon occurred when the men's hire car crashed through a barrier that was closed to stop vehicles as a drawbridge was opening up ahead. The victims were British and aged between 20 and 35, he said.
He did not further identify them or give other details of the men, saying it was not a police matter.
British media reported that they were members of the indie band Viola Beach, based in Warrington in northwestern England.
The band had played at a Swedish music festival on Friday and was scheduled to open for headline artists Blossoms at a concert in the British city of Guilford on Saturday, but the music venue said in a statement it had to cancel the gig after learning that Viola Beach had been involved in an accident.
"We are saddened and devastated as details have come to light of this tragic accident. Our thoughts are with family and friends," the venue Boileroom said in a statement to the AP.
Police did not know the reason for the accident and were still investigating, Bergholm said, adding that it was getting dark and the road was slippery.
"There were no brake marks on the road and it's very difficult to say how fast the car was going at the time," Bergholm said, adding that an eye witness — a truck driver who had stopped at the barrier — estimated the speed at between 70-80 kph (43-50 mph).
The accident occurred on the E4 highway in Stockholm's Sodertalje district.
Follow Emirates 24|7 on Google News.