6-day old baby gets heart transplant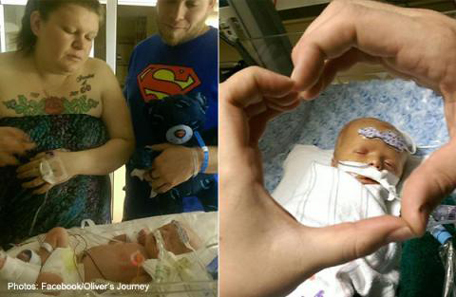 A six-day old premature baby has become the youngest infant to receive a heart transplant at a US hospital, doctors and his proud parents said Thursday.

Baby Oliver Crawford underwent the operation at Phoenix Children's Hospital in Arizona after being born seven weeks ahead of schedule with a heart defect which meant his parents didn't expect him to survive.

"The doctors had very little hope that he would survive the pregnancy, and when our water broke at 33 weeks, we were prepared to deliver a still born baby," said Ms Caylyn Otto, the infant's mother.

"But he came out fighting," she added in a statement released by the hospital.

The baby is recovering in hospital after being born on Jan 5.

His mother and father Chris Crawford were first alerted to the problem after a prenatal exam at 20 weeks showed a defect in the tiny baby's heart, called dilated cardiomyopathy.

It was confirmed four weeks later. "The left ventricle was huge for a 24-week-old," paediatric cardiologist Dr Christopher Lindblade told the Arizona Republic, adding: "It was massive."

They prepared for the worst. They even prepared for Oliver's funeral, clearing their home of toys, diapers and other baby things.

"It was too hard for me to look at all that stuff," said Ms Otto.

A hospice worker asked her if she would want to hold her stillborn baby, before he was taken away.

Follow Emirates 24|7 on Google News.