6 Filipinos killed in Algeria siege, 4 missing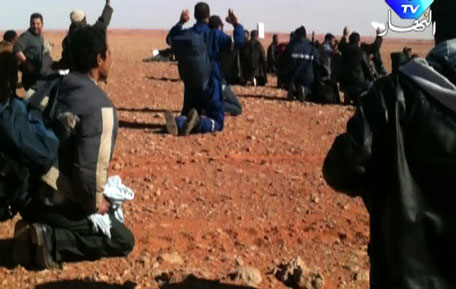 Six Filipinos were killed in gunfire or explosions during a siege by Islamic militants on a gas plant in Algeria, and four others are missing, the Philippine government said on Monday.
"The deaths of the six Filipinos were a direct result of the hostage-taking incident in the area and mostly by gunshot wounds and the effects of the explosions," foreign affairs spokesman Raul Hernandez told reporters.
Hernandez said four others were "still unaccounted for", while 12 more working at the In Amenas gas plant at the time of the attack were confirmed to be alive.
Hernandez had initially said 16 Filipinos were "confirmed alive", but later revised the figure, saying four of those were on holidays back home in the Philippines.
The Philippine government had previously said it did not know if any of its nationals had been killed during the 72-hour siege at the gas plant, deep inside the Sahara desert, that ended on Saturday.
Algeria's Ennahar television reported that the bodies of 25 hostages were found on Sunday by security forces combing the plant, and that five hostage-takers had been captured alive.
But Algeria warned other nations to prepare for a higher body count, as Prime Minister Abdelmalek Sellal prepared to hold a news conference later Monday.
Dozens of hostages appear to have died. Survivors' photos seen by AFP showed bodies riddled with bullets, some with their heads half blown away by the impact of the gunfire.
Thirty-two kidnappers were also killed in the standoff, and the army freed 685 Algerian workers and 107 foreigners, Algeria's interior ministry said.
Hernandez said he had few details as to how the Filipinos died, and did not know if the militants had executed them or whether the victims died when security forces raided the facility.
"I cannot say if they were executed because there were no details of what the circumstances are," he said.
While Algeria has come under criticism for an initial raid on the facility that some foreign governments described as too hasty, Hernandez said the Philippines had not yet taken a stance on the response by security forces.
"We have not had the chance to review that yet," Hernandez said when asked about the raids by Algerian troops.
However he emphasised that the Algerian government had informed Philippine authorities that the military action was undertaken to prevent further loss of lives, after the militants had started executing hostages.
Follow Emirates 24|7 on Google News.