7.7 quake off Alaska coast; tsunami warning revoked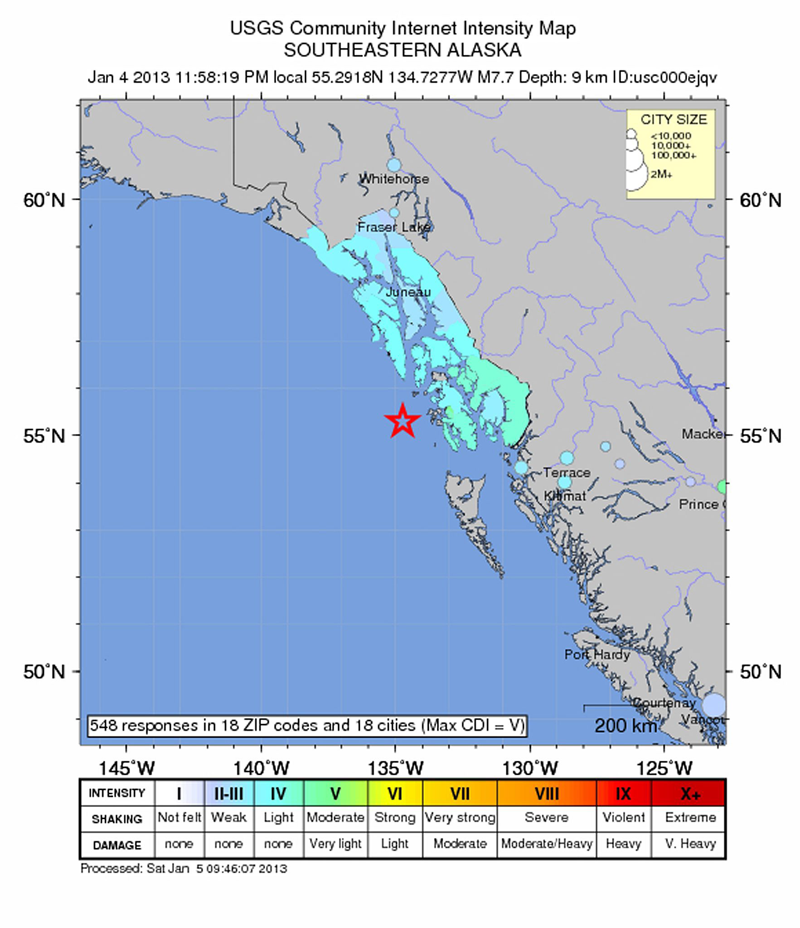 Officials have cancelled a tsunami warning for parts of southern Alaska and coastal Canada.
The Alaska Tsunami Warning Center says a tsunami was generated by a strong earthquake, but the waves don't pose a threat to the areas.
The center says some areas are seeing small sea level changes, but there will be no widespread destructive wave that had earlier been warned about.
The warning area included coastal areas from Cape Fairweather, Alaska, to the north tip of Vancouver Island, Canada. The area extended for more than 700 miles (1,125 kilometers).
Earlier, a major 7.7-magnitude earthquake shook an area in the Pacific Ocean off the coast of the US state of Alaska early Saturday, triggering a potentially destructive local tsunami, the US government said.
The epicenter of the quake, which occurred at 0858 GMT, was located 102 kilometers (63 miles) west of Craig, Alaska at a depth of nine kilometers (5.5 miles), according to the United States Geological Survey.
There were no immediate reports of casualties or damage.
But the Pacific Tsunami Warning Center said a local and possibly destructive tsunami has been generated by the quake.
"Sea level readings indicate a tsunami was generated," the US center said in a statement. "It may have been destructive along coasts near the earthquake epicenter."
It added that "no tsunami threat exists for other coastal areas in the Pacific, although some other areas may experience small non-destructive sea-level changes lasting up to several hours."
The earthquake reading was based on the open-ended Moment Magnitude scale used by US seismologists, which measures the area of the fault that ruptured and the total energy released.
A similar 7.7-magnitude earthquake hit Canada's Queen Charlotte Islands, located just south of the current epicenter, last October. That quake did trigger a small Pacific tsunami which eventually reached the US state of Hawaii without causing any damage.
Follow Emirates 24|7 on Google News.