70% of women put family first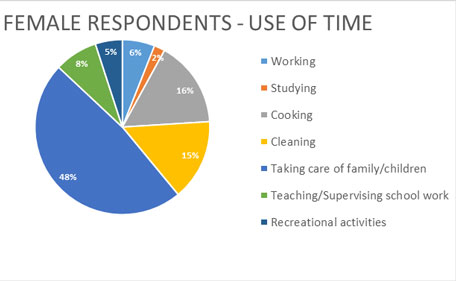 A new survey puts the eternal debate to rest, seeing women emerge as master multitaskers while caring for their loved ones.
A Middle East consumer survey, conducted by Centrepoint, shows an overwhelming 74 per cent of women in the region spend over 12 hours a day in activities that care for their family.
The survey explored the aspect of time used on key tasks among respondents, with the majority of their time taking care for family performing household chores such as cooking and cleaning.
Of the survey, respondents stated 48 per cent of their time was spent directly taking care of their family, while 16 per cent was spent toiling away in the kitchen, cooking.
Another 15 per cent of time was spent cleaning, while another eight per cent of time was spent supervising and teaching their children.
The rest of the time was split between working (six per cent) and working (two per cent).
Only five per cent of their overall time was spent in recreational activities.
Survey respondents came from across the nine territories in the region, predominantly in the age group of 20 to 35 years.
Nearly 88 per cent of women that responded to the survey stated that they were married and another 82 per cent stated that they had children.
In a statement, Centrepoint's Head of Marketing, Shyam Sunder said: "Women play an integral role in the life of the family and the survey highlighted just how much effort, care and time they put in to making our lives better."
He added the company will be engaging its audience through a campaign, 'Better With You', primarily driven through its digital platforms to highlight the achievements of female consumers and reward them for the same.
The campaign's visuals are expected to 'motivate men to appreciate the many talents of the women in their lives', said the company.
Regional designer Deanna Khalil, is also collaborating with the campaign; she said: "Women are the driving forces that keep the world well-oiled and running smoothly.
"From nannies, to nurses and doctors, teachers, lawyers and accountants, to businesswomen and successful female bosses, and from mothers to daughters - every woman plays a vital role in making this society better."
Centrepoint is a part of Landmark Group's retail store bouquet with 128 stores across the region; the company has stated 70 per cent of its shoppers are women.
Follow Emirates 24|7 on Google News.