80-year-old Jane Goodall has no plans to retire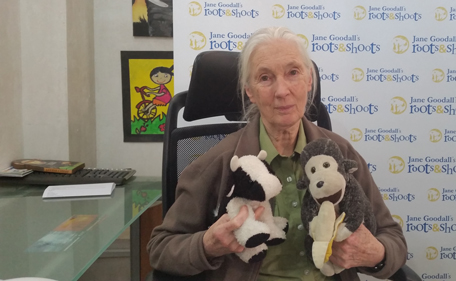 Jane Goodall takes a walk on the busy streets of Al Shindagha, where she finds peace of mind, before she returns to her hectic interview schedule. The next day, she heads to Abu Dhabi, where students are waiting to tell her about their ideas for the first local 'Roots and Shoots' programme. She probably won't have time for a visit to one of the zoos to meet the local chimps.

These days are like no other time for the 80-year-old wildlife activist, who says she has not been in the same place for longer than three weeks since 1986. When she is back in the UK for a couple of days, she writes for the various institutions building on her cause.

There are no other activities in her life, she admits. "I do not have time for hobbies, or anything else. Downtime is when I walk my dog in the streets of London."

Although it is not easy, she would not want to stop doing what she is doing, nor could she retire from what can hardly be called a job. "I can only retire when we have saved the world and that is not going to happen in my lifetime. This is just something that needs be done."

Jane Goodall became known for her study of social and family interactions of wild chimpanzees in Gombe Stream National Park, Tanzania. Inspired by the many books she had read about animals as a child, she had only one dream: she wanted to go to Africa, live with animals and write books about them.

In Africa, she met Louis Leakey, who was impressed with the knowledge she had gathered without pursuing a scientific study. Sensing that she might be able to understand animal behaviour better than anyone, he suggested she studied the chimpanzee on the Serengetti in Tanzania.

"How amazing that I got the chance to study the most fascinating species," she says. "But they are not my favourite animal; that would be a dog."

Goodall discovered behavioural patterns of the chimpanzee that had not been acknowledged before, such as the fact that they were capable of constructing and using tools, and the falsehood of the assumption that the ape species were vegetarian.

She was captured by fascination of the many similarities between their behaviour and that of humans, which transcended genes alone; chimpanzees were inhabited with social and emotional behaviour known to be unique to mankind, she found. But she was also repeatedly disappointed by the brutality and cruelty of her study objects.

"I always thought they were nicer than us, but they can be horrible. They can see a stranger and kill it, in the moment. And female elders can be brutal to the younger females. Chimpamzees were never my favourite species, but most certainly most interesting to study."

From scientist to activist

Today, Goodall no longer considers herself a researcher, but as an activist. Among several institutions initiated by her is the Roots and Shoots programme, which has now been established in Abu Dhabi in partnership with the Environment Agency Abu Dhabi, with the participation of seven schools and two universities.

"The UAE has a lot of influence in the world, and it is actually doing a lot. But the new generation should look after the world better than we did."

"It all started with 12 high school students in Tanzania, who were concerned about several things, such as the cruelty of the animal market, stray dogs, the dynamite using in fishing, and they wanted me to fix them all. I suggested they gathered their friends with similar concerns and talk.

"We decided to form clubs, based on the motto that each individual does make a difference. We want to empower this new generation starting with an understanding of the issues. When we understand we can care, when we care, we can help, and we help we can save the world. What started with 12 highs school students now exists in 138 countries with 150 thousand groups."

According to Goodall, there are many problems that need to be solved in the world, and although she will not be able to go on forever, she hopes to instill the same passion she feels for the wellbeing of animals in the new generation of activists.

"It was a conference I attended about understanding chimpanzees in 1986. What I saw there shocked me. Wherever the chimps were studied they were pressured, their habitats destroyed. They showed us a video of chimps in captivity in a lab. It was awful.

"I went to the conference as a happy field scientist, planning to study chimpanzees for the rest of my life. But I left as an activist," she recalls.

An example of hope

"Everybody has a gift in this life and I tried to use mine. There is plenty more to do, but I feel satisfied in knowing that I have done what I could have done. I could not have done more, physically nor mentally," says Goodall when asked how she looks back at her career.

Being a woman from a poor background, the British chimpanzee expert forms an example to many who have similar dreams, and she is often told that it was after reading one of her books or attending her lecture that young aspired people knew what to do in life.

"If you could do it, I can do it," young people say and this is brilliant. Being a girl I was often told I could not do what I wanted to do, but I did it anyway, and I want children to believe they can do the same.

"It might have been different if I was a rich girl talking to poor students in Africa. Instead, I can tell them a little of my story. I did not have a bicycle, we could only afford second-hands clothes or borrowed books from the library. It must have been meant to be this way, so people understand it was not easy to reach a goal," she argues.

However, she cannot rule out the role played by her mother, who accompanied her during her first four weeks in the Gombe forest. As a young British women, Goodall was not allowed to travel alone, but her mom never hesitated to support her daughter.

"She was the one who never laughed at me, and told me to take advantage of the opportunity given and never give up. When the chimpanzees ran away from me when I was first introduced to them, she boosted my morale."

Apart from saving the world, there is a lot more to learn too, and all has certainly not been learnt about the chimpanzee, she admits.

"There is so much variety and individualism among the species. We still need to study their behaviour in different parts of Africa; we are still to learn about continental traits versus learning traits.

"We do not know anything about the father-child relationship, or whether they even have any knowledge about this relationship. Why did Frodo (one of the chimps as part of her study in Gombe forest) follow his father around? My suspicion is that a son picks the alpha male to follow, not knowing whether that is his father," she argues.

That being said, field study is for the next generation now, and research methods have changed, she adds. "I am not meant to be doing it anymore. The young people are doing it now."

Returning home

Travelling from country to country rarely ever seeing home, it is perhaps difficult to say where she feels really at home. "The Gombe forest would be my spiritual home," Goodall says.

However, as time has passed the forest has changed. "It is for tourists now. My most favourite place in this forest used to be this wonderful waterfall, where a pipe has now been installed. I just can't go there anymore.

"The UK is home. My books are there, the books that inspired me when I was young, such Dr. Dolittle. And there is nature. It is not wilderness, but it is the same nature where I always walked my dog; trees, singing birds and the sky.
Follow Emirates 24|7 on Google News.