Abandoned babies now sick, disabled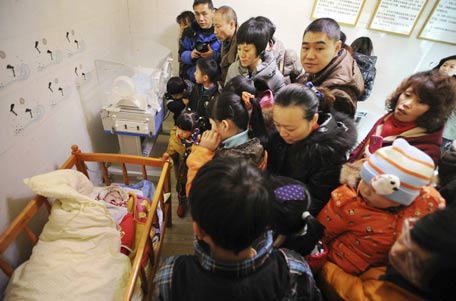 Fangfang was just a few days old when she was abandoned on a near freezing New Year's Day in north China.
She was relatively lucky. Unlike the many who are found dumped in train stations or toilets, her family left her at a safe, warm shelter.
Dozens of babies have been secretly dropped off at "baby safety islands", or "baby hatches", set up since late last year under a scheme aimed at protecting unwanted offspring.
"We need to build these islands to protect children from further injury," Zhang Min, head of a government-run orphanage in the northern coastal city of Tianjin where Fangfang was found.
The babies there are dropped off in a cosy room with pink walls, a cradle and an incubator. Fangfang was left in a handbag on the floor.
Chinese media frequently report harrowing tales of babies being abandoned, a problem attributed to young mothers unaware they are pregnant, the birth of an unwanted girl in a society which puts greater value on boys or China's strict family planning rules.
In one such case, a baby was found in a dumpster on the outskirts of Beijing. He didn't survive. In another, firemen in eastern China rescued an abandoned newborn boy from a sewage pipe.
Chinese orphanages have seen a falling number of abandoned children since 2005, but officials estimate some 10,000 unwanted children are still received each year. An unknown number of abandoned babies are also adopted informally.
Once orphanages in China were overwhelmingly filled with girls due to the cultural preference for male heirs and three decades of a strict one-child policy - if couples were allowed only one child, many wanted to make sure it was a boy.
Follow Emirates 24|7 on Google News.