Abortion roars back into US political debate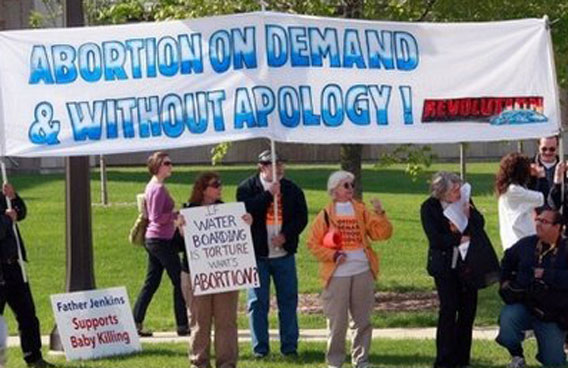 Abortion roared back to center stage in US politics this week as the Republican-controlled House of Representatives shifted its focus from a campaign pledge to create jobs and cut spending to women's issues.
Hearings were held in the House this week on two anti-abortion bills, one called "No Taxpayer Funding for Abortion" and the other "The Protect Life Act," and Congress is due next week to vote on a bill that would cut federal funding for health care organizations that provide abortions.
"Congressional Republicans who vowed to come to Washington and focus like a laser on the economy are instead focusing like a laser on social issues, including a bill that could let hospitals refuse to end life-threatening pregnancies and put the lives and health of women at risk," Senator Patty Murray, a Democrat, said in an email Wednesday.
Larry Sabato, who heads the University of Virginia's Center for Politics, said the flurry of anti-abortion bills were "one of those bones the Republicans throw to their social conservative base every now and then."
"The social conservatives are still very interested in abortion, and some of them worry that there's too much interest in fiscal issues and not enough on their social issues like abortion and gay rights."
Republican House Speaker John Boehner has called the "No Taxpayer Funding for Abortion" bill "one of our highest legislative priorities."
Terry O'Neill, president of the National Organization for Women (NOW), attacked the bill as a "woman-hating" piece of legislation.
"Any bill that puts us on a path back to the 1920s and 30s and 40s, when women were relegated to butchers for their reproductive health, that is not a bone for the base.
"Mr Boehner would never tolerate any restrictions on a man's ability to get excellent healthcare but he will consign women to butchers," she said.
Coinciding with the revival of the abortion debate, pro-life group Live Action last week released a video that appears to show a worker at a health center run by Planned Parenthood counselling a male client and a young woman on how to get abortions or contraception for child prostitutes.
Videos from a similar sting operation helped to shutter the left-wing Association of Community Organizations for Reform Now (ACORN) two years ago.
Planned Parenthood Federation of America (PPFA) spokesman Tait Sye said the video was part of a "coordinated and highly political effort to undermine health care access and Planned Parenthood." Live Action did not return calls seeking comment.
The worker in the video - which Sye said was "doctored" - was fired immediately, but not before anti-abortion lawmakers had the ammunition they needed to demand that federal funds for PPFA be cut off.
"The employees of Planned Parenthood clinics across the country are facilitating the abuse of minor girls in this country," Republican Mike Pence of Indiana - the author of the bill that would deny government funding to any service that provides abortions - said on the House floor on Tuesday.
"This should be a scandal to every American. The time has come to deny all federal funding to the Planned Parenthood Federation of America," said Pence, referring to the group as "the largest abortion provider in America."
On Wednesday, the powerful House Appropriations Committee said it wants to cut the budget for family planning programs by ê327 million - the exact sum requested by Democratic President Barack Obama for such programs in his 2011 budget, according to Planned Parenthood.
PPFA president Cecile Richards called the move "the latest outrageous attack on women's health" by House conservatives.
Federal funding for US family planning programs has "connected millions of American women with health care since Richard Nixon signed it into law in 1970," Richards reminded lawmakers. Nixon was a Republican.
Federally funded family planning programs provide women safe abortions but also offer breast exams, tests for early detection of cervical cancer, HIV screening and other key health care services.
NOW and scores more women's, youth, religious and law organizations are joining forces with PPFA to try to defeat the anti-abortion bills when they move through the Senate, where Democrats still hold a slight majority.
Follow Emirates 24|7 on Google News.