Abu Dhabi Crown Prince sits by roadside with 'lost' schoolgirl till dad comes for her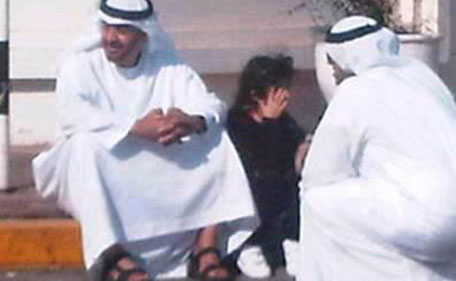 Abu Dhabi residents and motorists were greeted with a sight they are unlikely to see again.
General Sheikh Mohammed bin Zayed Al Nahyan, Crown Prince of Abu Dhabi and Deputy Supreme Commander of the UAE Armed Forces, was sitting calmly by the side of the road.
However, that was just the beginning of the story.
In another incident that shows the great humility and love that the leaders of the UAE have for their people - it transpires that Sheikh Mohammed bin Zayed was driving in Abu Dhabi when he saw the girl outside a school looking around as though she was lost.
Sheikh Mohammed parked his car and went with his assistant to the girl, asking if she was lost and offering to drive to her home.
The little girl replied that her father was supposed to pick her up and she was waiting for him.
She then responded that she could not accept the Crown Prince of Abu Dhabi's offer to drive her home because her dad told her not to speak to strangers.
Sheikh Mohammed bin Zayed's assistant then told the little girl that this was no stranger and went on to introduce the Crown Prince.
The girl answered: Yes, I know, but my dad said not to go with any strangers.
Sheikh Mohammed bin Zayed then smiled he decided to wait next to the girl till her father showed-up.
The picture here was taken by one of the school teachers.
The story first broke on a UAE Facebook page and the plaudits and comments began to flow in.
Comments left on the page included:
Veera Sequeira wrote: So down to earth!
While Sherif Embabi added: Like son like father. God bless him and God bless UAE.
Demetra Gargasoulas added: What a true gentleman! And a very smart little girl!
Rhonda Weese said: "This is why I am in love with everything to do with AD. I love the pride and family feeling you get when you live there," to which Stacey Barham added: "Everyone should have time to help someone if they need it! Good on him for helping and having morals."
Emirates 24|7's Facebook page was quickly filling up with admirers as well.
Tahir Afzal Khan wrote: "What a man. Love you Sir," while Sufi Muhammad Junooni commented: "Respect to Sheikh Mohammad."
Francis Fernandes commented: "God bless him!," and Bilkisu Yaqha adds "That makes him a great leader."
ALSO READ:
Unescorted Sheikh Mohammed surprises shoppers in Saudi Arabia
What Tom Cruise saw in Dubai: Ultimate 360-degree view from top of Burj Khalifa
Follow Emirates 24|7 on Google News.