Abu Hail leads RTA's Dubai revamp of bus stations: Nol cards, lost & found...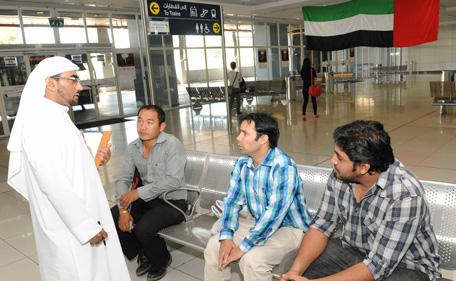 The Bus Department, Public Transport Agency of the Roads and Transport Authority (RTA), announced the start of upgrading Abu Hail Bus Station at Hor Al Anz occupying the Ground Floor of Abu Hail Metro Station.
The step is part of a wider plan encompassing the improvement of 16 bus stations within Dubai in addition to 5 other stations outside the emirate to be undertaken at a later stage.
"The plan was kicked off by a conducting a field survey, getting direct feedbacks, and engaging in an analysis of customers satisfaction rating to assess passenger needs, particularly at Abu Hail Station which is quite popular among bus riders.
"This has prompted us to prioritise the station in our development works, which are now set for completion in March 2014," said Mohammed Al Ali, Director of Bus.
"We have analysed the complaints received from Customers Service Dep't via the toll-free number 8009090 in order to identify the requirements of customers visiting Abu Hail Station," said Mansour Al Jasmi, Head of Bus Stations Improvement Team, Bus Dep't, Public Transport Agency.
"We are currently working on the provision of seats and shelters for passengers, reducing the headway of some routes based on customers feedback and onsite observations, and enhancing the performance of the Lost & Found Office through directly dialing the toll-free number mentioned above such that the employee concerned with Bus Department is intimated.
"Previously we used to dispatch valuable lost & found items to the Police every week, but in view of the improved plan and coordination with the Police, items are despatched every 48 hours considering that customers need to collect their belongings much faster as per the Lost & Found Guide of the Agency," he added.
"The improvement plan covers the provision of Nol cards recharging machines, directional signage displaying bus timetables and routes passing through the station, customer service counter, front-end employee and another staff to sell Nol cards & tickets for Sharjah routes, and brochures & leaflets for visiting passengers.
"About 620 machines have been installed at Bus Stations across Dubai Emirate and inside the air-conditioned bus shelters. The Bus Department has mapped out strategic plans to improve customers satisfaction at bus stations in view of the vitality of this service for a wide spectrum of community members in keeping with RTA's 3rd Strategic Goal: Customers First," said Al Jasmi.
Follow Emirates 24|7 on Google News.