Afghan president welcomes third child at age of 56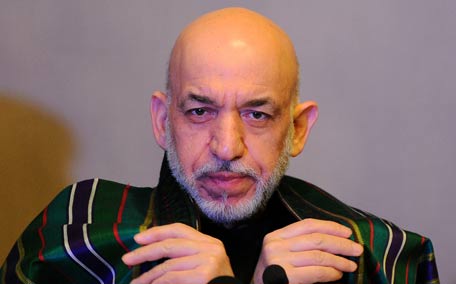 Afghan President Hamid Karzai has become a father again at the age of 56 after his wife gave birth to their third child in India, according to an embassy statement sent to AFP Friday.
A baby girl was delivered at a private hospital in the New Delhi satellite town of Gurgaon earlier this week, the statement said.
Karzai paid a brief visit to the Fortis Hospital on Wednesday to see his wife, 44, and new child as he flew on to Sri Lanka where he is on a two-day trip.
The leader, who has close ties with New Delhi, is set to retire from office after elections set for April 5 having led his war-wracked country since 2001.
Both of his other children - a son and a daughter - were born in Afghanistan, but due to an unspecified "medical complication" Karzai's wife Zinat was advised to travel to seek specialised care in India.
The child was born on Tuesday at around 9:30 am (0400 GMT), the Afghan embassy in New Delhi said in the statement.
In an interview last year to the BBC, Zinat explained that her husband of 15 years doted on his young family but often found it difficult to find time for them due to demands on his time.
"Sometimes, perhaps on Fridays, he might be free for an hour or so, so he will go for a walk with me and the children. We all go out together - once in a while," she said.
She also stressed that for them, despite deep-rooted cultural preferences for boys in Afghanistan, they were equally happy to have a daughter.
"For us... there is no difference between a boy and a girl," she said. "A daughter is the best gift from God."
Follow Emirates 24|7 on Google News.