After year of Trump, world order strained but not broken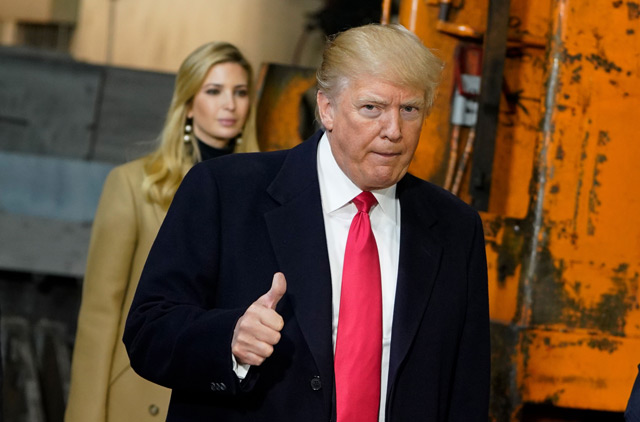 Donald Trump came to office threatening to tear up trade deals, extort payment from US military allies, end the Iran nuclear accord and build a wall on America's southern border.
He ended his first year still contemplating a strike on North Korea, angrily cancelling a planned visit to old ally Britain and reportedly using a vulgar term to refer to African countries.
From day one until day 365, much of Washington's foreign policy community has been aghast and international supporters of rules-based multilateral diplomacy dismayed.
But one year on from Trump's inauguration, the liberal international order remains more or less intact - though Trump's antagonistic style certainly has not traveled well.
According to a Gallup poll released Thursday, since Trump took office on January 20 last year world approval of US leadership has plummeted from 48 to a new low of 30 percent.
But Trump was not elected to impress foreigners: his slogan was "America First" and he hired oil executive Rex Tillerson as Secretary of State to build a foreign policy around it.
Many of the more exotic planks on his program have been forgotten or cut down to size, but there has been forward movement on some key dossiers left open by his predecessor Barack Obama.
The Islamic State group has been driven from its last urban strongholds, a strategy to confront Iran has been launched and Washington is turning up the pressure on North Korea.
Could it all turn to disaster, as many experts fear?
Of course - but so far so good, says Jim Jeffrey, a former senior diplomat and adviser to George W. Bush's White House.
"The basic problem with this guy in terms of his foreign policy is that his behavior is unorthodox," Jeffrey, now a fellow at the Washington Institute, told AFP.
"It's the unpredictability," he argued.
"It's not a minor thing if you're running a global security system based on credibility. But, so far, he hasn't done much damage to the international order."
Climate: the 'withdrawal doctrine'
It was on climate change that Trump came closest to disappointing the entire world.
He left the door open, just a crack, to return to the Paris Accord - under which 190 countries agreed measures to limit global warming - but only if America gets a looser deal.
Still, Trump's move remains symbolic of what observers now call the "withdrawal doctrine," under which the US president ceded his country's leadership or even membership in several multilateral projects.
Iran: America alone
For America's allies, for former Obama officials and for a good chunk of the Washington foreign policy establishment, the 2015 Iran nuclear deal is a landmark of modern diplomacy.
For Trump, it is the "worst deal ever negotiated."
Under the accord, Iran gave up or placed under UN inspection much of its nuclear program - lengthening the "breakout" time it would take to quickly develop an atomic weapon.
Many in Washington and in France - agree it was a mistake to leave Iran's ballistic missiles and regional interference out of the deal.
Hawkish voices in lobby groups and Congress encouraged him to "decertify" the deal, but his own top advisers persuaded him not to reimpose sanctions and torpedo it altogether.
North Korea: Rocket Man vs Dotard
Trump's approach to Kim Jong-Un's isolated North Korean regime has also proved hair-raising, even as Pyongyang has demonstrated a more impressive nuclear arsenal.
The new president was warned by Obama as he arrived in the Oval Office about Kim's quest, now apparently complete, to build missiles capable of hitting the United States.
Despite Trump's declared antipathy towards multilateralism at the 2017 UN General Assembly, his diplomats managed to build international support for UN sanctions against the North.
Trump's apparently warm golfing relations with China's Xi Jinping helped soothe great power rivalry, and Tillerson now hopes to force Kim to negotiate disarmament.
But here again, Trump's unpredictable and highly-personalized outbursts have kept the world on edge.
Overblown and violent rhetoric is perhaps the only domain in which North Korea can rival the United States, but Trump nevertheless chose it as his battlefield.
But with Trump branding Kim "Little Rocket Man" and Kim responding to the "mentally deranged dotard," Tillerson has worked on keeping the sanctions coalition together.
Key player China is still on board, even if the US accuses Russia of trying to undermine sanctions, and South Korea has tentatively reopened direct talks with its northern foe.
Mexico: Backs against the wall
The most famous, and most derided, promise of Trump's 2016 presidential campaign was for a "big beautiful wall" across America's southern border that Mexico would pay for.
At home, the remaining controversy about the project is mainly about how to fund it and whether a fence across part of the border is the same as a wall along the length of it.
But beyond the literal wall, the issue stands as a proxy for a broader crisis: Trump is convinced that America gets a bad deal from North America's NAFTA trade pact.
Mexican, Canadian and US officials have met often since Trump's inauguration, trying to head off a looming American pull out that would disrupt their highly-integrated economies.
Follow Emirates 24|7 on Google News.