Al Ain Zoo continues Arabian sand cat conservation efforts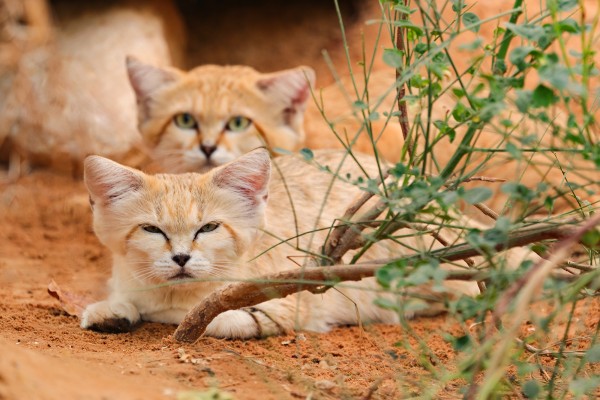 Al Ain Zoo has announced the successful artificial insemination of the Arabian sand cat.
The Zoo collaborated with the Cincinnati Zoo in the US and its Centre for Research of Endangered Wildlife, CREW, to facilitate the one-of-a-kind procedure.
CREW scientists began studying the reproductive biology of sand cats in 2003 and, in 2010, the first attempts at in-vitro fertilisation and embryo transfer were made at Al Ain Zoo. This led to the first-ever birth of sand cat kittens produced using assisted reproduction. At the same time, sperm samples from Al Ain Zoo's male sand cats were collected, frozen and taken to CREW's research laboratories in Cincinnati. Since then, scientists at CREW have been attempting to produce sand cats using artificial insemination, which removes the need to extract ova from female sand cats. Using sperm from one of Al Ain Zoo's males, success was finally earned in 2018 when three healthy kittens were born.
Unfortunately, complications during birth meant that they did not survive.
Omar Al-Blooshi, Director of Marketing and Corporate Communications at Al Ain Zoo, said, "Despite their death, the birth of the three cats is considered a great success. Careful research and planning by CREW scientists overcame several challenges with artificial insemination that had previously hindered success. We congratulate CREW and hope for more successful results in the future."
He added, "With the largest captive population of sand cats in the world, with 40 cats, Al Ain Zoo is making continuous efforts in the field of conservation and research of the sand cat. In collaboration with world-leading partners, our efforts have led to strategies for conserving the Arabian sand cat and in developing programmes and plans that protect the species. We carry out research to study the sand cat's numbers and habitat in addition to carrying out genetic studies that have improved captive population management."
"We are very proud of this first successful artificial insemination attempt for the sand cat, especially as Al Ain Zoo assisted in its success," Al-Blooshi added.
Al Ain Zoo launched its Arabian sand cat conservation programme in 2013 when, in collaboration with its partners, it published the Arabian Sand Cat Status Review and Conservation Strategy following an international workshop. The conservation programme progressed in 2014 with the establishment of the first Arabian Population Management Plan to create a collaborative regional breeding programme for the sand cat. These two strategies were the first of their kind in the field of protecting the Arabian sand cat with local, regional and global participation.
The programme's objectives include researching and conserving sand cats in the wild, studying the challenges which this species encounters in the wild, analysing their DNA, and studying the genetic diversity and differences between Asian, African and Arabian sand cat populations.
Follow Emirates 24|7 on Google News.