All-India strike hits transport and banking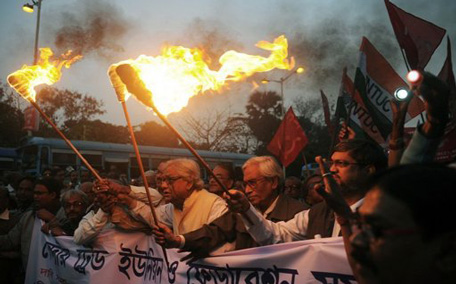 A two-day national labour union strike called unanimously by various trade unions in India has severely crippled life as the public transport system and the use of private vehicles has come to a standstill.
Minor cases of violence including a death reported from Haryana have been a feature of the strike, which has crippled normal life as government offices, schools, educational institutions and other public utility services remained partially or fully closed.
"The strike has virtually crippled life in several parts of India, especially Kerala, where both the ruling and opposition trade unions have participated in the strike. Roads remained almost empty and people are stranded in railway stations and some people are stranded at airports too. Even a minister .K.P Mohanan, has had to walk to his office, abandoning the office vehicle," Indian television channels reported.
The strike will cause huge monetary loss in terms of lost production and disruptions. "Students and teachers could not reach their institutions, causing the virtual closure of schools and universities," said media reports.
"Kerala State Road Transport Buses are not running smoothly, so are three wheelers and taxis. People who wanted to go to airports or travel to their home towns from the airports and railway stations are stranded. Except milk supply newspapers and emergency medical cases, the strike has crippled normal life. Media reports suggested that patients are walking to reach hospitals. The tourism sector too is badly hit due to closure of shops and public transport systems.. Banks and bank branches remained closed.
Earlier Story
India braces for nationwide strike
Millions of Indian workers were expected to join a two-day nationwide strike starting Wednesday in protest against "anti-labour" economic reforms introduced by the embattled Congress government.
Premier Manmohan Singh has appealed to unions to abandon the strike, the latest in a string of protests against liberalisation, warning it would cause a "loss to our economy" already poised for its slowest annual growth in a decade.
A one-day strike against reforms last September cost Asia's third-largest economy $2.3 billion in lost output and trade, according to the Confederation of Indian Industry.
But talks following Singh's appeal this week collapsed after the government refused to bow to union demands to roll back reforms, which are aimed at jumpstarting the economy and averting a downgrade in India's credit rating.
"The workers are being totally ignored and this is reflected in the government's anti-labour policies," said Tapan Sen, general secretary of the umbrella Centre of Indian Trade Unions (CITU).
The 11 unions behind the strike plan to block rail and road traffic, and said operations of state-run banks would be disrupted.
The government's "big ticket" reforms include opening retail, insurance and aviation sectors to wider foreign investment, hiking prices of subsidised diesel used by farmers and reducing the number of discounted cooking gas cylinders.
The steps aimed at freeing up the still heavily state-controlled economy and lowering India's ballooning subsidy bill and fiscal deficit have stirred wide public anger, especially among the poor.
"The last time that we called a strike (in February 2012), nearly 100 million workers participated. This time we're expecting a bigger number," Sen told AFP.
The protest was expected to have maximum impact in eastern West Bengal, where unions enjoy significant clout. The walkout could also have a big effect in southern Kerala state where strikes are common.
It might be business as usual however in financial hub Mumbai, where some unions said they would not protest.
An overtly patchwork response indicating a lessening of union influence would be welcome news for the government, which has been buffeted by graft scandals, the weakening economy and stubbornly high inflation, analysts said.
Follow Emirates 24|7 on Google News.